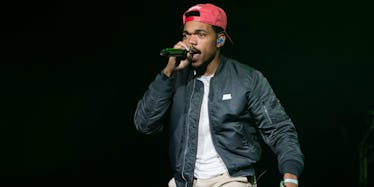 Chance The Rapper Sold Out Lollapalooza 2017 So Fast And Fans Are Heartbroken
REX/Shutterstock
Chance the Rapper is the hero Chicago deserves.
So, it would make complete sense Saturday tickets for the Windy City's music festival Lollapalooza would quickly sell out after Chance the Rapper was named a headliner for that day.
Basically, this is the best lineup for a festival I've seen in a while. Aside from Oldchella. And the concert involving the Beatles, Wolf Amadeus Mozart's piano recital and Elvis I'll experience when I get into heaven.
Naturally, everyone was pretty upset they wouldn't have the chance (nailed it!) to see their favorite rapper.
The despair on Twitter is very real. Judging by the emojis used, people are crying. A lot.
At least, someone is taking the news somewhat well.
Hey, Lyanna, don't blame Chance. YOU DON'T WANT NO PROBLEM, WANT NO PROBLEM WITH CHANCE. Who am I kidding? Chance is the nicest guy.
Where have I seen this reaction before?
Oh, that's right.
No fence will ever stop this Twitter user from seeing Chance.
Someone's heart broke not one, but twice after hearing they were living in a Chance-less world.
Not getting tickets to see Chance is leading to some serious existential questioning.
Other huge names of this year's Lolla include Arcade Fire, Muse, Lorde and The Killers.
This is Chance's third time headlining. The last time he did so was in 2014.
Chance recently made headlines by donating $1 million to Chicago's public schools.
Chance is like the exact opposite of Dr. Evil.
Basically, $1 million is what I would donate in order to get a ticket to Lollapalooza... unless they accept spare kidneys? Because I will totally give a spare kidney to see Chance the Rapper perform.
No? No takers? Cool.
I'll just chill here with two kidneys and probably watch a video of his performance on YouTube after the fact. Huzzah!
Citations: CHANCE THE RAPPER WILL MAKE CHICAGO PROUD AT THIS YEAR'S LOLLAPALOOZA (MTV News)