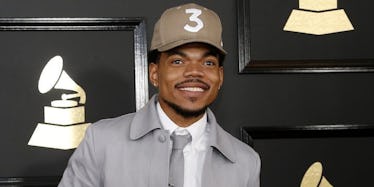 Chance The Rapper Leads By Example, Donates $1M To Chicago Public Schools
REUTERS
Grammy award-winning artist Chance the Rapper wants to help make the world a better place.
Not only is he constantly talking about influencing positive change in the United States, but he's taking action in his own community and leading by example.
The 23-year-old Chicago-born rapper made his friends, family and fans proud on March 6 when he donated $1 million to help fund Chicago public schools.
While a cool million is merely a drop in the bucket for the funding Chicago public schools really deserve, Chance's generosity is priceless.
Last Friday, Chance, whose full name is Chancellor Johnathan Bennett, sat down with Illinois Governor Bruce Rauner to discuss proper funding for the state's schools.
Chance, who specifically inquired about Chicago's schools, took to Twitter to voice his frustration about how the meeting with Rauner went. Rauner seemed to challenge the 23-year-old recording artist almost immediately.
Chance spoke to reporters after the meeting, saying,
He asked me where the $215 million was going to come from.
Honestly, that's a valid question from Governor Rauner, but it must also be noted Rauner vetoed $215 million in pension relief in 2016.
The governor insisted funding for Chicago's public schools should have been paired with "larger pension reforms," according to ABC News.
Now ask yourself: Should Chicago's students have to suffer over politics and budget cuts?!
Not on Chance's watch. It turns out he had an answer to Governor Rauner's question.
On Monday morning, the "Coloring Book" rapper had his answer and plan. It was plain and simple.
The young 23-year-old rapper, who impressively found major success in the music industry as an independent artist, decided he was going to donate $1 million of his own money to the Chicago Public School Foundation.
During a press conference held at Oliver S. Westcott Elementary School in South Side, Chicago, Chance stated,
Today I'm proud to announce that I am donating $1 million to CPS to support arts and enriching programming. I'm excited to share that this donation was made possible by my fans.
You can watch Chance's announcement at Westcott Elementary below.
Sure, there is still plenty to do in Chicago and other cities around the country, and $1 million won't cover even a quarter of the to-do list.
But if Chance is sending any message with his most recent good deed, it's that leading by example is the only way to get things done.
Oh, and did I mention he isn't even done supporting CPS?
Take that, budget cuts and shady politics!
Citations: Chance the Rapper says he'll donate $1 million to Chicago public schools (ABC News)