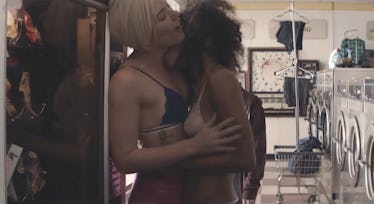 Ariana Grande's New Music Video Features A Lesbian Couple Getting Hot And Heavy
YouTube
In Ariana Grande's last music video for her single "Side To Side," the pop singer was bopping on a spin bike while singing about getting pounded for so long, she'd be crab-walking for days to come.
Well, that was all PG compared to the steamy footage seen in her latest music video for "Everyday," another single from her Dangerous Woman album, featuring rapper Future.
The new music video features couples of different ages, sizes, genders and sexual orientations going HAM with their public displays of affection, while others look on completely shocked.
First, we get a glimpse of a couple hooking up on the hood of a car before the video cuts over to two women getting their clean clothes extra diiiiiirty at a local laundromat.
Hey, at least there's detergent handy to get any stains out.
Before you know it, we see office co-workers making the most of their water cooler talk (AKA banging on the copy machine next to it).
As the video begins to wrap up, there's the final elderly couple tearing into each other on a public bus, while Grande nods in approval.
While it's awkward at best, it's nice to see actual evidence that sex still exists for couples over 60.
With lyrics like "He giving me that good shit, that make me not quit, that good shit, oh, he give it to me everyday, everyday, everyday," what did you expect from Grande's next hit track, aside from sex, sex and, well... just a lot more sex?
It's also pretty spectacular to see the LGBT community represented in such a prominent, sex-positive way.
Grande, whose brother Frankie is gay, has previously spoken publicly about her feelings and her support for gay rights.
"How much further can your head get up your ass that you're actually judging someone as a person based on their sexuality before you even have a conversation with them?" she said in an interview with V Magazine back in 2015.
The song may be all about sex (at any place and any time), but it's pretty sweet to see all different types of love blasted across mainstream media like this.
Right on, Ariana. Right on.
Citations: Ariana Grande features same-sex couple in raunchy Everyday video (Gay Times Magazine)