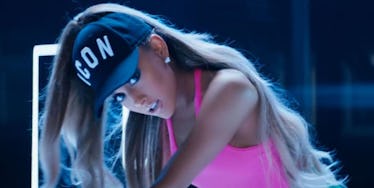 Ariana Grande Got Real About The Super Sexual Meaning Behind 'Side To Side'
YouTube
If you watched the VMAs this year, then you definitely remember Ariana Grande and Nicki Minaj's performance of "Side to Side."
Both Ariana and Nicki took over Madison Square Garden to perform their new song as the star-studded crowd struggled to keep themselves from busting out their epic dance moves.  Can you blame them?
The track is pretty catchy.
We know both Ariana and Nicki wrote the song along with four other talented songwriters.
We know that their VMAs performance of "Side to Side," which featured a slew of elliptical bikes, was easily one of the best performances of the night.
But what we don't know is the incredibly sexual meaning behind the top 40 hit -- until now.
According to US Weekly, Ariana Grande and Nicki Minaj's song "Side to Side" is about having SO MUCH SEX that you can't walk straight the next day.
I know, I know... I'll give you some time to process that.
The 23-year-old singer spoke to MTV News about the song's meaning, saying,
That whole song is about riding leading to soreness. 'Ride d*ck bicycle' is the lyric, indeed.
Well, then...
Nicki Minaj's verse could have easily told us that. Let's take a look.
This the new style with the fresh type of flow / Wrist icicle, ride d--k bicycle / Come true yo, get you this type of blow / If you wanna Minaj, I got a tricycle.
Despite how oblivious we all were to how x-rated this song is, it seems like a few people caught wind of the raunchy "Side to Side" meaning early on, including Lena Dunham.
So, why so sexy? Well, it seems like that's the overall creative direction Ariana Grande is taking for her third studio album titled "Dangerous Woman."
During a radio interview with Ryan Seacrest, Grande revealed,
The album is definitely the next step for me. It still sounds like me, but it feels like a more mature, evolved version. There's a nice blend of the R&B vibes and a nice blend of pop vibes. The whole body of work is a little darker and sexier and more mature.
Yeah, definitely "sexier and more mature," that's for sure!
Now, if you will excuse me, I'm going to put my sound-blocking earmuffs back on. I'm not ready to be mature.
Citations: Ariana Grande Reveals the NSFW Meaning Behind Her 'Side to Side' Collaboration With Nicki Minaj (US Magazine)