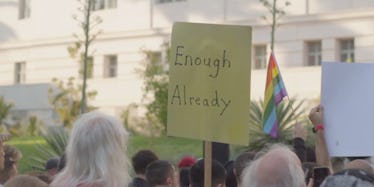 Here's Proof You Don't Need To Be Part Of The LGBT Community To Understand It
Vimeo
In an effort to honor victims of the tragic Orlando shooting, people everywhere have been showing their support to put a stop to the senseless hatred that fuels terrorists in many different ways.
A video, recently uploaded to Vimeo by Alex Bohs, takes viewers to Los Angeles where over 2,000 people from all walks of life joined together in solidarity to remember the 49 innocent victims who lost their lives on June 12.
The event took place just a day after the attack in Orlando.
Bohs's insightful videography shows that, regardless of sexual preference, race, economic status and everything else, you don't need to be part of the LGBT community to understand why no one deserves to experience such hate.
The video's description reads,
The range of mourning (some choosing silence, others spoken word and a few using dance) from all walks of life wholeheartedly touched me. In fact, the bittersweet beauty of it all riveted me so much I decided to share some of my experience via video.
The 4-minute short, titled "Gentle Angry People," captures the supportive nature of not just Los Angelenos, but every other normal person around the world with common sense.
The video ends with a touching quote by John Duran which reads,
Instead of denigrating us as a people, look at us as an example of what to do in the face of fear.
Check out the heartwarming video above for a closer look.
Citations: "Gentle Angry People" (Vimeo Staff Picks)