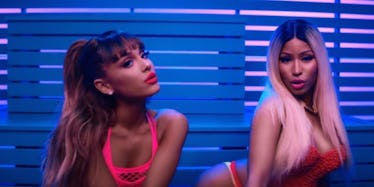 Ariana Grande And Nicki Minaj's New Music Video Dropped And It's Sexy AF
Vevo
If you watched the VMAs last night, you got a little preview of Ariana Grande's workout routine.
The 23-year-old singer basically held a SoulCycle class during her performance, and no one knew what to think.
What immediately came to mind for me was, "Shit, I better hit the gym." So thanks, Ariana, you owe me a Planet Fitness membership.
Fans shortly realized Ariana was singing her new song "Side to Side" featuring Nicki Minaj. The two killed it on stage and totally slayed.
If you liked what you saw, there's more where that came from.
Ariana Grande's new music video for the song just leaked and it's even better than her VMAs performance.
Right now, the video is being shown exclusively on Guess' website, but you can check out some of the best moments below.
You'll get to see Ariana run a SoulCycle class again, so be prepared to have your self-esteem lowered.
This isn't what I look like when I work out.
Oh, and there's Nicki. Yup, I definitely don't look like this when I hit the gym. FML, right?
This is when Nicki sings, "If you want a Minaj, I got a tricycle." IDK what this line means, but it's pretty damn catchy!
Check out the full music video above and then hit up your local SoulCycle or Planet Fitness or wherever the hell you go to cry and eat chips in the bathroom stall.
Oh, is that just me?
Fuck.