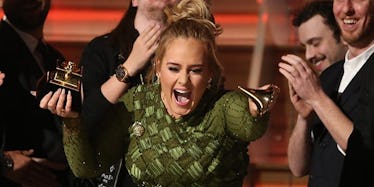 Why Adele Praising Beyoncé At The Grammys Was Actually Awkward As Hell
REUTERS
The internet was filled with heart eyes after Adele turned her Grammy acceptance speech into a tribute to Beyoncé.
For starters, it showed a great amount of selflessness for Adele to make her moment someone else's. She also seemed tuned in to how Beyoncé's work played a key role in empowering black women, which is always a point worth highlighting.
Adele also said what The Grammys should have recognized on its own. There's probably no way Adele's 25 should have beaten Beyoncé's Lemonade for Album of the Year. 
The fact that Adele said all this while fighting back tears and professing her love for Beyoncé (which moved Beyoncé herself to tears), made the moment that much more notable.
In some ways, it was admirable, but it was also awkward as hell, and there's just no getting around that.
It was awkward to watch an artist accept an award apologetically, instead of enthusiastically.
It was awkward to see an artist prostrate themselves on such a big stage (which had to be at least a little uncomfortable for Beyoncé herself).
And it was definitely awkward to hear Adele stumble through mentioning her black friends "stand up for themselves" before saying she wants Bey to be her mother.
This is all speaking matter-of-factly, of course.
I say none of this to shade Beyoncé or Adele, either, especially since it's so obvious that there's an underlying issue.
Now, I won't talk about how race affects how Grammys awarded, though there are already arguments being made about that.
I won't get into how The Recording Academy, which decides the winners, is making itself irrelevant by ignoring the innovation behind Lemonade's release, and the relevance of its content to the time of its debut.
But sure enough, there are arguments being made for that, too.
What I will say is something much simpler.
When the winner of an awards show's biggest prize is more motivated to break the prize in half than enjoy the victory herself -- which ultimately undermines the award -- it's fair to say there is a problem.
I felt like it was her time to win. My view is kind of 'what the fuck does she have to do to win Album of the Year.'
Until that problem is addressed, don't be surprised if we have to uncomfortably watch more of the same awkwardness at The Grammys in years to come.