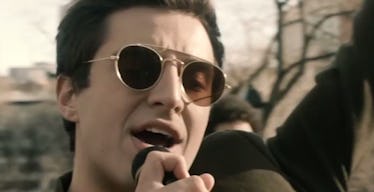 This Guy Absolutely Nails His Cover Of Adele's 'When We Were Young'
Adele released her album 25 almost three months ago, and fans STILL obsess over it.
I mean, I don't blame them. I listen to "Hello" and "All I Ask" on repeat while I drive to work every day. There's nothing like starting your morning with tears streaming down your face and calling your ex 1,000 times before 8 am.
Oh, is that just me? Well, either way, we can all agree her music is THE BOMB.
You know what's also the bomb? Covers of Adele's music.
Have you heard about the guy who covered "Hello" in 25 different song styles? Or what about when Demi Lovato covered it and gave us serious chills?
If you're all about those covers, you have to check out this incredible rendition of "When We Were Young" by José Rivera Jr.
It starts out with José and his band performing the song together, but then José takes us to the streets of NYC and totally crushes it with a team of dancers around him.
It's seriously straight out of a movie, so you have to watch it for yourself in the clip above. Happy Friday, everyone!