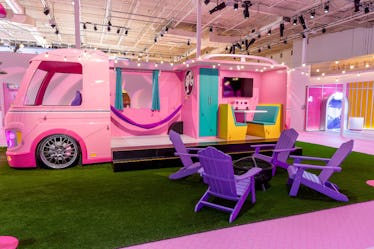 This Life-Size Barbie Dreamhouse Is Coming To Los Angeles In April
Turning Barbiecore into a reality.
Kilburn Live
Now is your chance to step inside Barbie's Dreamhouse. That's right, you can finally live "in a Barbie world" with the Barbie house experience, which is coming to Los Angeles this April. Instead of shrinking down to the size of a doll, the immersive experience will bring Barbie's world to life for you to explore with your besties. The Insta-worthy pop-up will not only include the iconic Dreamhouse, but Barbie's pink camper van as well.
Barbie is really having a moment right now. With updates on the Barbie movie starring Margot Robbie and Ryan Gosling keeping fans on their toes and brands releasing their own nostalgic Barbie collabs, Barbiecore is here to stay. If you're down to take your fandom to the next level, you'll want to stop by the World of Barbie immersive experience. Last year, People reported that the World of Barbie would be touring U.S. cities like New York, Chicago, and Dallas after its debut in Toronto, and it seems Los Angeles is first. Of course SoCal would be Barbie's first choice for a U.S. debut. It's close to her Malibu home, and you can get tickets to the World of Barbie starting in March.
Aside from Barbie's Dreamhouse being human-size, there are other activations and Insta-worthy photo moments throughout the experience that any fan will want to see for themselves. You just want to make sure you snag a ticket before they sell out.
What Is The Barbie House Experience?
It's time to dig through your closet for the cutest pink 'fit you own, because the World of Barbie immersive experience was made for the 'Gram. The main attraction is Barbie's Dreamhouse, where you can walk through her living room and kitchen while admiring the cutest Barbie-inspired decor. You'll also get a chance to hang out in her backyard, which has lawn chairs and a pool — aka ball pit — that you can jump into. Prepare to snap some super cute pics of you and your besties lounging around like you're having the perfect summer day at Barbie's house.
Of course, when at Barbie's house, you definitely want to check out her closet. As you make your way through, you'll get a chance to see many of her iconic outfits and career uniforms from over the years. You know Barbie is the OG boss babe, so there will be tons to see. If you arrive in Barbiecore style, you'll have a chance to show off your lewk in the fashion studio. The studio will have a pink carpet you can walk down that is lined with life-size Barbie boxes to step into and take a pic. You may even feel like you're in *NSYNC's "It's Gonna Be Me" music video.
Along with seeing Barbie's career outfits, you can also pretend to be her. The World of Barbie will have play sets like a space center, where you can snap pics in Barbie's spaceship with your besties. There will also be a movie theater with Barbie content playing, and a salon with Paul Mitchell products. Afterwards, relax in Barbie's pink camper van that has a cozy hammock for you to lounge in as you live "life in plastic."
Exclusive to LA will be special after-hour events happening at the Barbie pop-up. For example, there will be a Pink Carpet Night where guests can wear their best Barbiecore fashion and enjoy a night of dancing, walking the pink carpet, and chowing down at the snack bar. Every Sunday at World of Barbie will be a Movie Day, where Barbie animated movies will be playing in the theater and popcorn will be available. There will also be a 21 and up night called Sips After Sunset hosted by special guest influencers with a DJ and fun cocktails.
How To Get Tickets For The Barbie House Experience In LA
Tickets for the Barbie house experience in Los Angeles will go on sale March 8, and prices start a $34 for adults. To make sure you get your tickets before they sell out, you can sign up for the waitlist on Fever.
Where Is The Barbie House Experience In Los Angeles?
The World of Barbie Dreams Made Here experience will kick off in Los Angeles at Santa Monica Place. The outdoor shopping center is close to the beach, and the perfect location for a Barbie-themed day.
This article was originally published on