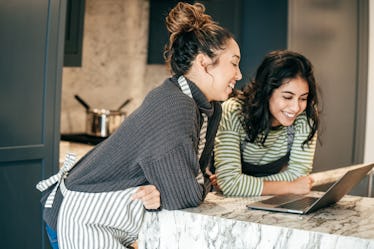 Try These Winter Solstice Recipes From TikTok For Your At-Home Feast
Make the most of the longest night of the year.
kate_sept2004/E+/Getty Images
The winter solstice — aka the longest night of the year — is the official start to the winter season. While you may have been bundling up in your coziest sweaters since the start of the month, Dec. 21 is actually when winter begins this year. Whether you're visiting family back home for the holidays or just trying to stay warm in your apartment, you can celebrate this new beginning with some winter solstice 2021 recipes on TikTok.
A winter solstice feast is actually a great way to make your dark day a little warmer. Perhaps, you've never truly celebrated the winter solstice before. With all the holiday parties to attend and last-minute shopping to do, it makes sense that in years past, it hasn't been at the forefront of your mind. Since you might be taking things easier this year and staying home, a winter solstice celebration is just what you need.
By following a few of these winter solstice 2021 recipes from TikTok, you'll not only be cooking up something delicious to enjoy but you'll be honoring the Earth and its winter rebirth with some of its delicious offerings as well. Between winter spice bread and meat pies, you'll be able to find something tasty to whip up in the kitchen just in time for the solstice.