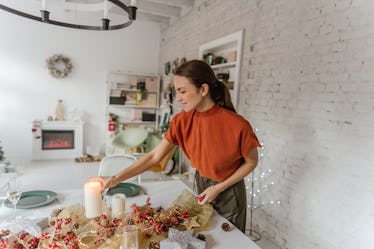 15 Winter Solstice Recipes That'll Make A Dark Day Seem A Little Brighter
Celebrate the shortest day of the year with good food and even better company!
AleksandarNakic/E+/Getty Images
The winter solstice is Dec. 21, and with that comes the shortest day and longest night of the entire year. Since the winter solstice happens in the middle of the holidays (and is a traditionally Pagan holiday in the first place), some people might not remember to actually celebrate it. But if you do decide to get together with friends to celebrate the occasion, there are tons of winter solstice foods and recipes to keep you warm and fed while also honoring the holiday.
The winter solstice is traditionally celebrated as a symbol of the changing seasons and of the Earth's "rebirth," so to speak, so the traditional meals to accompany the winter solstice have an emphasis on the Earth itself, focusing on nuts, berries, spices, squash, potatoes, and hunted game like goose and deer.
Now, nobody expects you to hunt a deer for your winter solstice meal, but a few Earth-focused recipes will certainly do the trick — not to mention some warm drinks to get you through this cold winter's night. The winter solstice, if you choose to celebrate it, should be spent with friends and family, as what you choose to serve during the meal itself is less important than the company. With that said, here are 15 easy winter solstice recipes to cook up for the longest night of the year.
This article was originally published on