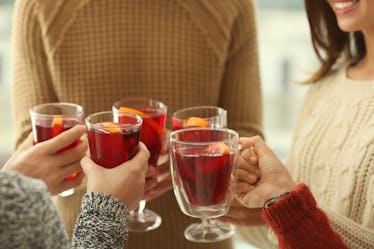 15 Winter Solstice Cocktails To Make Your Holidays Warm & Bright
Raise a glass to the longest night of the year!
Pixel-Shot/Shutterstock
Now that we're nearing the end of the year, chances are you've noticed a chill in the air and temperatures dropping. After all, winter is right around the corner, and we can very obviously feel it. However, the cold winter also brings sweater weather, snow, and fun winter activities like Christmas markets, skating, and sledding. Considering the coldest season of the year actually starts with the Winter Solstice on Dec. 21, it's the perfect opportunity to warm up by sipping on a warm winter drink. You can go the spirit-free route with hot chocolate, or you can go the boozy path with mulled wine and spiked hot cocoa (if you're 21 and up). While the weather outside is frightful, these Winter Solstice cocktails will ensure your start to winter is so lit.
Whether you're throwing a party or just lounging around listening to holiday tunes while wrapping gifts on the longest night of the year, it's 5 o'clock somewhere, and the holidays are the perfect excuse to let loose (responsibly) for most occasions with a Winter Solstice drink in hand. Winter drinks come in all forms, so if you like adult eggnog, hard liquor, or good 'ole wine and Prosecco, there's a solstice drink this season that will suit your palate. Plus, with how busy and stressed many of us are right now, you're going to need it. As an added bonus, pair your Winter Solstice cocktails with one of these complementary Winter Solstice recipes for a cozy feast you can whip up and bring to a holiday party.
This article was originally published on