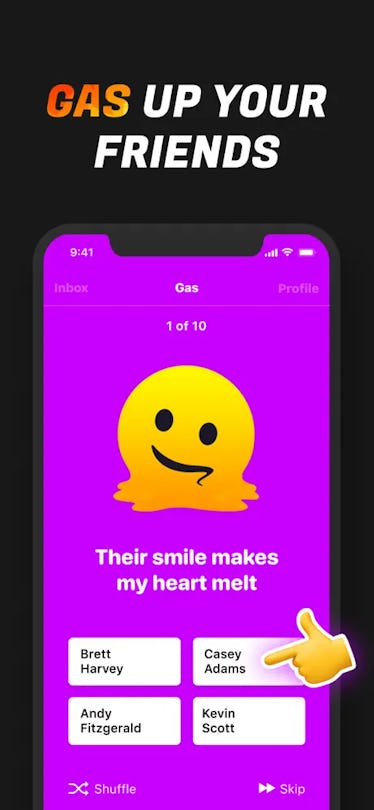 What Is The Gas App? Discord Bought The Compliments-Based Platform
There's no better feeling than getting a compliment from someone you don't really know, and now there's an app that recreates that feeling all the time. Gas is a platform that lets users anonymously compliment their friends, classmates, and crushes through fun polls that are sure to give your a serious self-esteem boost. Gas has been popping off in high schools ever since its debut in August 2022, but now that Discord bought the app on Jan. 17, the compliments-based platform might be the next social media to blow up.
Whether you're sending a subtle hint to your crush or making your bestie smile, Gas is pretty much guaranteed to brighten someone's day. No, it's not another messaging or photo-sharing app that you can scroll through for hours — Gas is an interactive app that asks users a series of poll questions about their friends and classmates. The app's founder, former Facebook manager Nikita Bier, told Today he created the iPhone app to "spread positivity," and "improve self-esteem of teens." It seems like the app's mission is working, because one in every three teens in the U.S. has the app, and more than 1.5 billion compliments have been delivered through Gas, per Today.
"There's a lot of toxic things about today's social networks, and we just wanted a place where you can just open your phone and see something that makes you feel better about yourself," Bier told Today.
How The Gas App Works
If you were a fan of the NGL Instagram Story trend in summer 2022, then you're gonna love Gas. Similar to the NGL link, the platform allows users post anonymously, but instead of spilling tea, they're gassing each other up — or revealing their true feelings about their crush. Where Gas really has the IG Story trend beat, though, is its interactive polls, which makes it possible to rack up coins and compliments, aka Flames. It's basically like a game for your group chat.
According to an email from a Gas spokesperson to Elite Daily, all poll questions are "authored" by the Gas team to prevent users from throwing shade at one another, and designed to be "uplifting and positive" — hence, why people use it to gas each other up.
When signing up for Gas, you'll be asked to share your location so you can find your friends on the app, and select your school so you can play with your classmates. (It's kind of similar to YikYak in that way, if you remember it from back in the day.) Users that are picked less frequently will have their names circulated in polls more often to give others the chance to "spread the love," according to Gas.
According to the spokesperson, the app uses your friends list and classmates to populate its poll answers, but you don't have to be a student to join in on the fun. Gas also asks users to sync their contacts upon sign up, so even if you're out of school (*raises hand slowly*), you can still play with your besties — because gassing each other up in the group chat isn't enough.
BTW, the app has no messaging capabilities, even between friends, so you don't have to worry about strangers sliding into your DMs.
Play Polls
To give out compliments, you'll need to answer some poll questions like, "always saves you a seat in class," or "would ditch studying for finals for a concert." And if you want your crush to get the hint, there are opportunities to share how you really feel with questions like "feels like they're always flirting with me," or straightforwards prompts like "we should date." Every time you answer someone's name in a poll, they get an anonymous message in their inbox informing them that someone sent a compliment.
Once you've completed a round of 12 questions, you'll either have to wait an hour to play again, or you can invite a friend to get the next round started.
Collect Flames
Every time someone answers a question about you, you'll receive a Flame for that compliment. Because it's anonymous, it won't tell you who the Flame is from, but there is a loophole that you can use to figure out who's been crushing on you.
Find Out Who Gave You A Compliment With God Mode
Though the Gas app is free, there is a paid tier called God Mode that lets you see who your compliments are coming from. But don't expect to get all your answers at once, because God Mode only reveals two names a week. That said, you'll also have access to unlimited hints, receive secret crush alerts when someone adds their name to your polls, earn double the coins on polls, and send polls anonymously.
To upgrade to the paid tier, open the Gas app, and tap the Inbox button in the top left corner. Select the "See who likes you" option at the bottom of the screen, then tap Continue and follow the prompts.
Upgrading to God Mode will run you $6.99 per week, and your subscription will auto-renew until you cancel in the iTunes Store settings.
Collect Coins
Completing a round of polls will earn you some coins, which can be used towards placing your name in other people's polls. To do so, visit your profile and tap the Coins button next to the "Share Profile" option, and select whether you'd like get your name on three random polls are 100 coins, or put your name in your crush's poll for 300 coins.