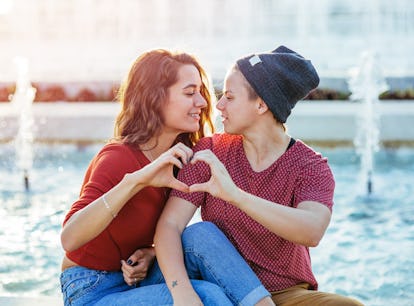 40 Valentine's Day Captions To Use When Love Is In The Air
Whether you have a partner or you're flying solo.
Mixmike/E+/Getty Images
There's no better time to express how you're feeling about someone than Valentine's Day. It doesn't matter if you have a partner or you're flying solo — there's more than enough reasons to celebrate how much you love your besties, family, and even your pets. All you need is a super cute snap and one of these Valentine's Day 2022 captions for your Instagram feed, and you'll be sharing the love in no time.
Think of it this way: Valentine's Day doesn't have to be sappy and over-the-top. And it's definitely not just for couples. No matter who you love, a sweet and sentimental Valentine's Day caption on one of your Instagram posts is a great way to show them just how much you care. You could post a throwback photo of you and your bestie in elementary school with the caption, "Two peas in a pod" or turn a romantic Valentine's Day caption into something silly. You could also post a Valentine's Day pic with your fur baby along with the caption, "So this is love." Pretty sure a lot of people can relate.
No matter how you feel about the holiday, V-Day can actually be a lot of fun (not to mention all the dope candy that comes out in February). So, go ahead and post your favorite photos to the 'Gram and share a couple of these cute Valentine's Day 2022 captions to your feed to celebrate the love in your life.
"We've got great chemistry."
"Every day is Valentine's Day with you."
"In love with my best friend."
"Love you more."
"Hugs and kisses."
"Cupid got me good."
"I only have heart eyes for you."
"My forever valentine."
"I love you even when I'm hangry."
"So this is love."
"All you need is love... and candy."
"This is my lobster."
"On cloud nine with my valentine."
"Life is so much better with you in it."
"Valentine, I'm yours."
"Lucky in love."
"Celebrating V-Day with my faves: wine and chocolate."
"You have a pizza my heart. I hope that's not too cheesy."
"I'm so glad I swiped right."
"If we were on a sinking ship, I'd share my door with you."
"Happy Valentine's Day to me. I love you."
"In an exclusive relationship with me at the moment."
"Be mine."
"And suddenly, all the love songs were about you." – Unknown
"You're still the one."
"Valentine, you and me were meant to be."
"Let's be lovestruck together."
"I carry your heart." — E. E. Cummings
"Love made me do it."
"True love isn't found, it's built."
"Me + You = Forever."
"You may hold my hand for awhile, but you'll hold my heart forever."
"What is done in love, is done well." — Vincent van Gogh
"Be still, my heart."
"Love you to the moon and back."
"Two peas in a pod."
"My vibe right now is just loving you."
"Here's to being my emergency contact one day."
"We go together like peanut butter and jelly."
"You are the only person I would share my chocolate with."