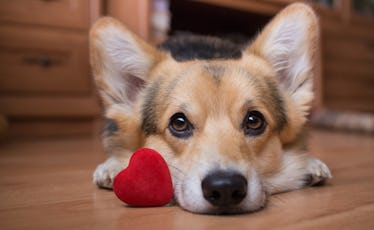 31 Paw-sitively Adorable Instagram Captions When Your Dog Is Your Valentine
Because it's more than just puppy love.
Veronika 7833/Shutterstock
Valentine's Day may be all about sharing the love with the people in your life, but honestly, who loves you more than your dog? It doesn't matter if you're single or in a relationship; your pup deserves to be recognized on this day of love. These paw-sitively adorable Instagram captions for when your dog is your valentine are the perfect way to show it's more than just puppy love on Feb. 14.
Which would you rather see on your feed: photo after photo of couples celebrating Valentine's Day, or photos of your friends' pup on Valentine's Day living their best lives? Personally, I love my friends, but their adorable pups are where it's at. When I think about all the potential Valentine's Day tributes to precious pups, paired with the perfect Instagram caption, my heart grows three sizes.
And just because you're posting about your dog as your valentine on Instagram, that doesn't mean you can't post about the other people in your life, too. After all, this is the day of love, so you might as well spread as much of it as possible. Bonus points if your pup is all dressed up for the big day with a bow (or bow tie).
Whether you're planning to celebrate Valentine's Day with your besties or partner, or you're doing it solo, I think we can agree that your dog deserves an Instagram appreciation post. So go ahead, snap that photo of them snoozing by your side or romping through the snow, and post to your feed with one of these Instagram captions for when your dog is your OG valentine.
"I'm mutts about my pup."
"Love is a four-legged word."
"Happy V-Day to the one who's always been by my side."
"They call it puppy love."
"Rescued by my rescue dog."
"I woof you so much."
"The road to my heart is marked with paw prints."
"Anything is paw-sible with my dog by my side."
"Love is a wet nose and a wagging tail."
"Live, laugh, bark."
"A dog is the only thing on Earth that loves you more than he loves himself." —Josh Billings
"Happiness is a warm puppy." —Charles Schulz
"I labradore you."
"Life would be ruff without this one."
"And they call it puppy love."
"Spending V-Day with the one I love most."
"My valentine has four paws."
"This friendship is fur real."
"The more people I meet, the more I love my dog."
"Everything I know, I learned from dogs." — Nora Roberts
"You can't buy love, but you can rescue it."
"Dog kisses are the best kisses."
"Hanging out with this paw-sitively adorable pup."
"All you need is a dog's love."
"I'm fur-ever yours."
"My dog is my best fur-end."
"I'll take puppy snuggles over flowers any day."
"The journey of life is sweeter when traveled with a dog." — Bridget Willoughby
"You are paw-fection."
"Happy Valentine's Day to the love of my life."
"I'm not single, I have dogs."