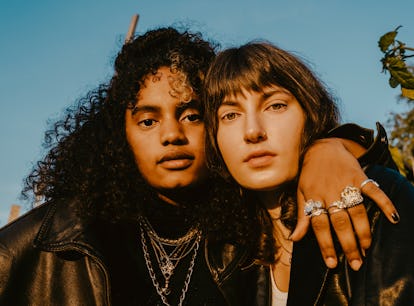 The 7 Stages Of Connection You'll Experience If You Find Your Twin Flame
This kind of bond is extremely rare.
You've heard of soul mates, for sure, but you probably haven't read much about what's referred to by many spiritualists as the twin flame. The difference between the two is you can have many different soul mates in life, but you only have one twin flame. Your twin flame is the person who simply understands you the most out of everyone you meet. There's a mutual connection that's almost instant — you don't have to explain yourself, there's already a sense of knowing; you just truly get each other. Your twin flame is a side of yourself that you may not fully be tapped into yet, but they come into your life to teach you things about yourself. There are important stages to this once-in-a-lifetime encounter, and gaining a full understanding of the twin flame stages can help you to understand how to navigate this magnetic relationship.
Your flame is someone who makes you feel like you're meeting a part of yourself that you have yet to discover, but somehow feels incredibly familiar. This person adds to your life in ways that no one else has before. They don't complete you — because you're complete all on your own — but they complement you in ways that support your personal growth. They meet you right where you are, and it just works. This kind of connection is extremely rare, but I firmly believe that everyone has a twin flame and may come across them at one point in their life. Knowing what to do when you come across a connection like this, however, is the tricky part. Since many of us aren't familiar with our twin flames, you may not exactly know what to do once you find them, so here are the several stages of twin flame connections to bring you up to speed:
This article was originally published on