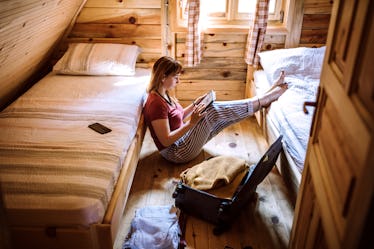 TikTokers Are Showing Off Their Travel Dreams Via Viral #DontBeSurprised Trend
As more and more people are getting vaccinated, they're finally starting to make real travel plans. Those filled with an overwhelming amount of wanderlust probably already have their first trips planned and plane tickets booked, but if you're still in the dream phase, TikTok's #DontBeSurprised trend is just for you. The viral hashtag has allowed users to show off their dream scenarios, and a lot of TikTokers are using it to present where they'd like to jet off to next.
The #DontBeSurprised tag started with TikToker @notgodhimselflol, who posted a video of himself on April 19, saying, "Eh, don't be surprised if one day I just..." From there, he shows a picture of late hiker Chris McCandless (aka Alexander Supertramp), implying that one day he'd love to travel as well. This OG video inspired other TikTokers to put their dreams on display. While some users did joke videos about becoming Kris Jenner or having a million cats, others used the #DontBeSurprised trend to show off their future travel destinations.
Right now, the Centers for Disease Control and Prevention (CDC) state that fully vaccinated people can safely travel within the U.S., continuing to wear your mask and social distancing as much as possible. If you want to travel abroad, you should check out the COVID-19 protocols in your country of choice. While you wait to be fully vaccinated (which is two weeks after your last shot) and feel comfortable enough to get away, you can daydream with other TikTokers on where you'd like to go. Maybe some of these eight #DontBeSurprised TikToks will inspire you to make some solid plans.