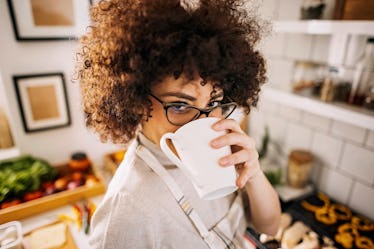 These Viral Angel Milk Recipe Variations Include Edible Glitter
Say halo to these creative sips.
eclipse_images/E+/Getty Images
Now that it's fall, you'll want to head to TikTok to find something warm and delicious to drink for those extra chilly days. While a pumpkin spice and chai latte have always been your autumn go-tos, you may want to throw in a delicious mug of angel milk every once in awhile. If you've already mastered the basic steps, TikTok's viral angel milk recipe variations will help you mix up your sips with 'Gram-worthy additions like glitter and food coloring.
If you're unfamiliar with this sweet drink, angel milk consists of three main ingredients:
Mix about a spoonful of sugar — as Mary Poppins would say — and a capful of vanilla extract into your mug of milk, and you're ready to warm your angel milk up in the microwave. Most TikTokers heat their drink up for one minute, but some have been going as long as 1:30 while others are only warming it up for 15 seconds. You'll also want to play it by ear when it comes to the amount of sugar and vanilla extract you add in. Many TikTokers have said that if you put too much of either ingredient in, your drink may come out too sweet.
Of course, you can always switch things up entirely. A lot of TikTokers have gotten creative with their angel milk recipes on TikTok by adding in additional ingredients like cinnamon or honey. If you're lactose intolerant or avoiding dairy, feel free to switch out the traditional milk for some almond or oat milk. It's really up to you to make the most heavenly angel milk you can. If you need a little inspiration, though, here are eight viral angel milk recipe variations you can try at home.