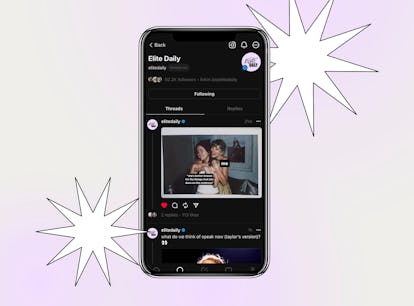 I Tried Threads To See If It's A Good Alternative To Twitter
Users are already calling out one big issue with the app.
Rachel Chapman/Elite Daily
Since Elon Musk took over Twitter in October 2022, the social media app has seen a lot of changes. Things like tweet limits and the removal of check marks from non-paying verified accounts has upset a lot of users. Many celebs have even left Twitter now that it's under Musk's reign, which has led many to speculate which app will take over as the next platform for tweets. Apps like Bluesky and Spill have been marketed as Twitter alternatives, but Meta — aka Facebook — just came out with its own text-based conversation platform, Threads, which seems to be a frontrunner. With all the hype surrounding it, I tried Threads to see if it's a good alternative for anyone looking to jump ship at Twitter.
As someone who spends an embarrassing amount of time on my phone and would describe myself as chronically online, I don't need another app to get sucked into. However, I am also someone who doesn't like to be left out in the dark — hence, being chronically online. So, I joined Threads the day it "launched" on July 5. Technically, Threads is not new, though. A different version of the app, that was more like Snapchat, actually launched in 2019. However, the new Twitter-like Thread app appeared in July, and was fairly easy to download.
Since Threads is owned by Meta, it was actually Instagram that prompted me to try and download the app. Since it's linked to my IG account, I didn't have to do much when I logged in, either. It already had my same username picked out. All I had to do was draft up a new bio, insert a link of my choice, select whether I wanted a public or private account, and choose which friends to follow. The easiest option is to auto-follow every person you already follow on Instagram once they join Threads. Despite this being a blank slate for me to filter out who I actually want to follow, I got lazy and selected the all-in option.
Once I finished my profile, it was time to explore. Threads has some slight variations from Twitter, but if you've used the latter, you can definitely work your way around the former. It's almost like riding a bicycle. In no time, you start to get the hang of it. Now that I've had a few days to play around with Threads, here's how it compares to Twitter.
Is Threads The New Twitter?
If you're looking for a Twitter dupe, Threads is a pretty good replacement. It's a much better alternative than Lemon8 for TikTok, but it's still very new. There's always room for improvement, but it has the same basic functions that Twitter has. Instead of tweeting your funny ideas or newsworthy observations, you "thread" your text-based posts. Your friends and followers can then reply, like, or even re-thread your post. Similar to Twitter, Threads allows you to repost as is or quote a re-thread when you share it.
Along with your text, Threads also lets you share links, pictures, gifs, and even videos. It's like a blend of Twitter and Instagram, which makes sense since you need you need an Instagram account to use Threads. Paris Hilton described Threads as a "public group chat" with all her "besties" and followers. Scrolling through the threads is just the same as Twitter, but searching for trending topics is nonexistent at the moment. The search is only for looking up other accounts to follow.
Your feed is filled with mostly people you follow as well, but I have been served some threads from people I don't follow that my friends have replied to. So, in a way, this does fix one problem some people had with Twitter about random tweets in their feed. Right now, Threads is also so new that there aren't any ads. This will likely change as the app grows, but for now, you can enjoy a cozy Twitter dupe with all your friends, no sponsored posts, and a bunch of confused people trying to figure out Threads. Overall, I think Threads has an exciting new feel to it, but I know, just like every social media app, it's likely to find its faults and become a platform I need to set limits on.
Can You Delete Threads Without Deleting Instagram?
To set up your Threads account, you need an Instagram. Your Threads profile will be linked to IG, which unfortunately means you can't delete Threads without deleting your Instagram right now. If you don't want to commit to Threads, it might be best to wait it out. Meta has said they're "looking into a way to delete your Threads account separately," but it's not available at the moment. Threads does have an option to "take a break" within your account settings. If you're worried you might be spending too much time on the app, just set a limit of 10 minutes, 20 minutes, or 30 minutes. After this time, the app will send you a reminder to take a break.
Do Hashtags Work On Threads?
Since Threads doesn't have a search for trending topics right now, hashtags are a bit useless. In fact, you can't even use hashtags on Threads. It won't link to anything. This is one way that Threads differs from Twitter. I guess it has to have a few differences, so it's not a complete copycat. Another way that Threads is unique is that it allows up to 10 pictures per thread, similar to 10 photos in an Instagram carousel. Twitter only allows four images per post.
How Do You Follow Everyone On Threads?
While Threads and Instagram may be tied together, they have a symbiotic relationship where they can help each other out. For instance, you can easily follow everyone from Instagram on Threads when you first sign up. After deciding whether you want a public or private account, Threads will ask if you want to "follow the same accounts you follow on Instagram." You can either manually select who you want to follow for a refresh or just select "follow all." By choosing the latter, Threads will automatically follow all your friends currently on Threads and auto-follow anyone who signs up later.
Ultimately, I really like Threads. I think it's a great alternative to Twitter if you're looking to leave that app. It's not perfect. I wish I could search for trending topics or by words and phrases, but I'm sure it'll offer that ability soon. Having used Instagram for years, I've seen the platform expand and grow to offer what users are wanting and needing. Aside from some missing elements, I'm really loving this new Threads feel and how excited users are to have something to play around with. Now, if only I could figure out what to thread next.