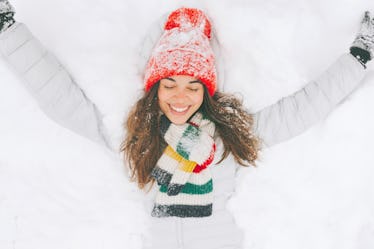 11 Things To Do On A Snowy Day Solo That Are As Cool As You Are
Cozy up inside or take advantage of the flurries.
Westend61/Westend61/Getty Images
The weather outside isn't frightful when you're excited for the first wintry snowfall of the season. But, deciding on what to do on a snowy day when you're home alone is another story. Fear not, because there are many adventures you can have so much fun doing solo, and that's why we're here to share some of the best things to do alone on a snowy day.
When life has you caught up, it's easy to overlook the joy you can have doing things you don't normally have time for, with one of the coolest people of all time: you. From being able to pick out the holiday movie you want to watch without anyone else's input to sleeping in or making a TikTok out in the snow, you can really make the most of this solo downtime. Plus, you won't really be alone when you find the best things to do alone on a snowy day and share the pics on your feed showing how busy you've been. It'll be amazing content that will get all the love and likes from your friends and family. Put on your cozy plaid pajamas or cutest winter outfit, it's your choice, and so are these fun solo activities.
This article was originally published on