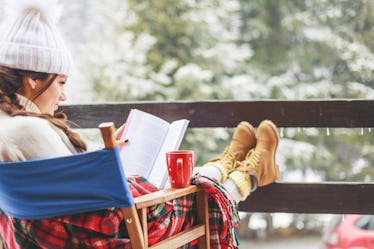 10 Romantic Books To Read This Winter When You're Snuggled Up By The Fire
Turn off your phone and dive into these exciting reads.
Jasmina007/E+/Getty Images
Reading during the winter is almost better than during any other time of the year. The colder months make you want to snuggle up, and reading alone sends your mind on an adventure into a different world. By picking out some romantic books to read this winter, you'll find that your blanket and the fire aren't the only things keeping you warm.
Romantic books have a way of pulling at our heartstrings. How many times have you been caught blushing or slightly biting your lip as you stared down at your paperback romance book? Words are powerful, and if they happen to be tangled up in a romantic scenario, we are done for.
We fall in love with the characters and the storylines, and ultimately, we adore the way the words make us feel. Writers are extremely creative, and we are here for the way they make us want to spend hours with our noses in a book, especially during the coldest time of the year. Luckily, winter tends to give us opportunities for down time, and you should definitely spend it wisely. So, if you're looking to cozily orchestrate a book, blanket, hot cocoa, and fireplace date with yourself, you can't go wrong with snatching up a few of these titles. Thank me later.
We only include products that have been independently selected by Elite Daily's editorial team. However, we may receive a portion of sales if you purchase a product through a link in this article.
This article was originally published on