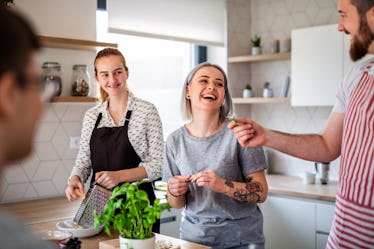 TikTokers Are Using Mozzarella Sticks To Make Tacos, Chicken Fingers, & Even Wontons
Halfpoint Images/Moment/Getty Images
It's hard to say no to some mozzarella sticks. The deliciously fried food stuffed with cheese is an instant fave, and perfect for serving as an appetizer during your roomie dinner or as a snack during movie night with your partner. Not only are they tasty AF, but they're super easy to make. You may even have a go-to recipe already, but there are some different mozzarella sticks recipes on TikTok that you'll definitely want to try out as well.
You know you can always turn to TikTok for the latest foodie trend. Of course, mozzarella sticks are nothing new, but some at-home chefs are putting a fun spin on this classic appetizer to make it even better. For example, did you know that you can make mozzarella sticks with just about any crushed up chips you want? So, ditch the bread crumbs, because some TikTokers are spicing things up with mozzarella sticks made out of Hot Cheetos and Takis.
If you're someone who hopped on the air fryer TikTok trend, you're probably always looking for new recipes. Well, guess what. There are some air fryer recipes on this list of eight mozzarella sticks recipes on TikTok that you can try as well. So, if you're feeling hungry, just scroll on through and find the a cheesy recipe that works for you.