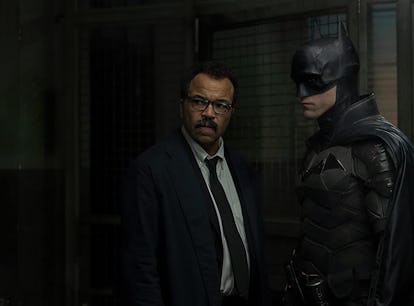 20 The Batman Quotes For Captions For When You're Ready To Fight For Justice
When R. Pat said "I'm vengeance," we believed it.
After a long wait, DC's newest superhero thriller finally arrived on the big screen on Friday, March 4, and already, fans can't stop raving about it. 2022's The Batman is filled with iconic imagery and a boatload of A-list actors that deliver some pretty epic lines. Whether you're a superhero super fan or you're just curious about the new movie, these quotes from The Batman make the perfect Instagram captions.
Like most of the recent films in the Batman franchise, this one is also pretty dark. Between a couple of classic villains that come back stronger than ever, and his own inner demons, there are plenty of on-screen moments that put Robert Pattinson's acting skills to the test. Luckily, he passes with flying colors, and delivers some unforgettable The Batman quotes all about justice, vengeance, and doing the right thing at great personal cost. Add to that the explosive chemistry between Bruce Wayne and Selina Kyle (played by Zoë Kravitz), and you have the perfect equation for memorable The Batman quotes that deserve a prime spot on your Instagram feed. I mean, can you imagine posting a pic of your cats with Selina's line, "I have a thing for strays?" Pure perfection.
Maybe you need a quote from The Batman to go with your cosplay costume, or you want to set the perfect moody vibe for your feed. Or perhaps you, like Batman, are fighting for justice in the world in your own way. No matter your reason, scroll through these quotes from The Batman to find one that inspires you to share with your feed.
"Fear is a tool." — Batman
"I'm vengeance." — Batman
"I can take care of myself." — Selina Kyle
"Maybe we're not so different. Who are you under there?" — Selina Kyle
"Get out of here or that suit's gonna to be full of blood." — Bouncer
"Oh, you're everything they say you are, aren't you?" — Penguin
"You know, you really could be doing more for this city." — Bella Reál
"It's only gonna get worse for you." — Selina Kyle
"I never thought I'd feel fear like that again. I thought I'd mastered that." — Bruce Wayne
"Vengeance won't change the past, mine or anyone else's. People need hope." — Batman
"You have a lot of cats." — Bruce Wayne
"I have a thing for strays." — Selina Kyle
"Things will get worse before they get better." — Bruce Wayne
"Let's get into some trouble." — Cat Woman
"If you are justice, please do not lie." — The Riddler
"If we don't stand up, no one will." — Selina Kyle
"They think I'm hiding in the shadows, but I am the shadows." — Batman
"What I'm doing is my family's legacy." — Bruce Wayne
"I'm giving you a change. No one ever gave me a chance." — Edward Nygma
"Maybe this is all coming to an end." — Batman