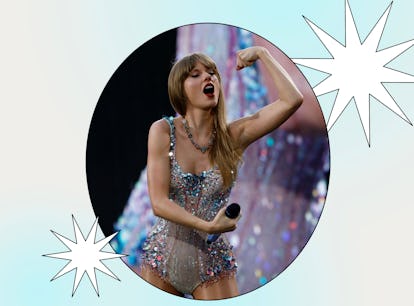 I Tried Taylor Swift's Workout To Cop Her (3-Hour!) Eras Tour Stamina
Bringing this routine along on all my hot girl runs.
Natasha Moustache/TAS23/Getty Images Entertainment/Getty Images/Elite Daily
Since March, Taylor Swift has been traveling the country on her Eras Tour doing an over three hour-long show almost every single weekend. Not only does Swift take her fans on a journey through her career-spanning discography, but she also sings, plays guitar and piano, dives into the stage, and dances the entire time. After going to the Eras Tour in New York, I was exhausted from just one night of belting out lyrics and dancing in the stadium. To be able to keep shaking it off week after week, Taylor Swift's workout routine has to be intense. Building up my own stamina for when I see the Eras Tour in August, I decided to try Swift's workout for myself.
The Midnights singer has been pretty private about her exercise routine in recent years, but Swift is a fan of dance-based cardio studio Body By Simone. Owner Simone De Le Rue, who has worked with Swift before, shared a 20-minute full body workout inspired by the routine she's done with the singer in 2016, saying that her "classes are fun because they allow you to literally dance like no one is watching." If you have no problem dancing to a Swift song when it comes on the radio, you might want to try taking this 20-minute dance cardio workout as well.
Of course, that's not the only exercise Swift enjoys. In 2010, she revealed she runs on the treadmill every day for an hour. "For me, running is about blasting a whole bunch of new songs and running to the beat," she shared. Fans then got to see Swift running on the treadmill in her Apple Music commercial from 2016, and Swift-themed treadmill workouts have since found their way onto TikTok's FYP. Since Swift's treadmill exercises are all about listening to good music and "running to the beat," I decided to follow a TikTok Taylor Swift treadmill exercise in addition to the dance cardio. After all, Swift's music is my go-to playlist for exercising.
Taylor Swift's Workout Starts By Getting Your Heart Rate Up With Dance-Based Cardio
I started out my workout with the Body By Simone routine which is apparently Swift's 20-minute routine. This is so easy to do at home, and De Le Rue shows both an advanced and modified version, so there is something to follow no matter your level. The exercises in the routine are as followed:
Three sets of 10 jump lunges
Two sets of 10 push-up shoulder taps
10 side plank oblique crunches on each side
20 glute burnouts on each side
Two sets of 10 explosive jump squats
20 side-lying leg swings on each side
Swimmer exercises for 10 seconds
Cool down stretch with child's pose
Cat-cow stretch
Downward dog
Three deep breaths
I loved that this workout allowed for modifications, which I definitely did for a few of these exercises. It's easy enough for beginners, but still provides an intense burn for any pros as well. The thing that I loved the most about this workout was that it was for the full body.
After getting your heart rate up with the jump lunges, you move down the body, starting with your arms and ending with your legs. It allowed me to pinpoint areas that need a little more work. For example, I was struggling the most with the arm exercises so I will definitely be adding more upper body workouts to my weekly schedule. Some of the lower body exercises, like the explosive jump squats and leg swings, were my favorite because as a former dancer, these felt the most like dance exercises. So, I'll definitely be doing more of those as well just for fun.
This workout may be only 20 minutes, but I definitely broke a sweat. I can see why Swift would want something quick with her busy schedule that works out her entire body and provides a burn. I plan to incorporate this short routine into my weekly schedule, and hopefully by the time I go to the Eras Tour show in August, I won't need any modifications.
Taylor Swift Likes To Run On The Treadmill For An Hour
After my dance cardio workout, I hopped on the treadmill for an hour — which is how long Swift likes to run. Instead of just straight running, though, I tried a Swift-themed treadmill exercise from TikToker Allie Bennett (@benntheredonethat). Bennett posts treadmill playlists that are perfect for strutting and increase in speed with each song. She has a workout with songs from Swift's Eras Tour set list, but it's only 42 minutes long, so I added in a few extra songs from another one of her most popular treadmill workout TikToks to get it up to an hour. My final playlist was the following:
"The Man"
"Love Story (Taylor's Version)"
"willow"
"Message In A Bottle (Taylor's Version)"
"Don't Blame Me"
"Better Than Revenge"
"Enchanted"
"New Romantics"
"I Knew You Were Trouble (Taylor's Version)"
"cardigan"
"Look What You Made Me Do"
"Wildest Dreams (Taylor's Version)"
"Mastermind"
"Karma"
"...Ready For It?"
"Style"
While I had fun with the dance cardio workout, this was the highlight for me. Strutting to a Swift song is now one of my favorite things to do. I loved that the intensity grew with each song, but it was so gradual that I didn't really notice. By the time "Mastermind" came on my playlist, I knew it was time to run. That was probably the hardest part, since I'm not a great runner, but having Swift's songs there to keep me company really helped. I could easily distract myself by focusing on the songs and singing along in my head.
Even if you don't have a treadmill or a gym membership, I would highly recommend making a Swift-themed playlist for going on hot girl walks in your neighborhood. I usually only get on the treadmill for about 20 to 30 minutes as a warm-up, so I was worried an hour would be too long. However, it really flew by listening to Swift's music. Even if I can't do the dance-based cardio every single day, I will try to at least do a Swift-themed hot girl walk/run daily. Hopefully, that will have me better prepared for the next time I have to scream, dance, and cry in a stadium for three hours straight with my fellow Swifties.