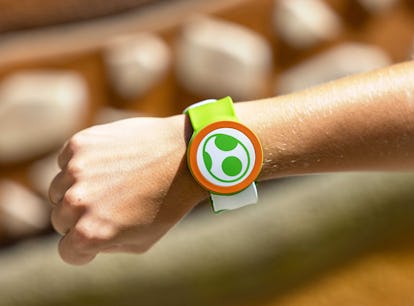 Are Super Nintendo World's Power-Up Bands Worth It? An Honest Review
These interactive items are $40 each.
Universal Studios Hollywood
Universal Studios Hollywood just leveled up with the opening of Super Nintendo World. The new area of the park, which opened on Friday, Feb. 17, truly makes you feel like you've stepped inside a Super Mario Bros. video game. To fully immerse yourself in the realm, though, you might want to consider a Power-Up Band, a character-themed wristband that allows you to collect things like coins from the question mark blocks and keys from different challenges around the land. The question is, are the Super Nintendo World Power-Up Bands worth their $40 price tag? I recently got to check out Super Nintendo World ahead of opening day, and got to test one of the Power-Up Bands. Here are my thoughts:
Without a Power-Up Band, you only get about half the experience of Super Nintendo World. Sure, there's the Mario Kart-themed attraction and Toadstool Cafe, both of which are great additions to Universal Studios Hollywood; you can also spend a good amount of time snapping pics for Instagram in the space and meeting characters like Mario, Luigi, and Princess Peach. But the real fun comes from interacting with the land. You want to feel like Mario in the video game? The Power-Up Bands gives you a challenge to complete.
Super Nintendo World Power-Up Band Review
A Super Nintendo World Power-Up Band looks just like a watch, but is themed to different Super Mario characters. Depending on which character Power-Up Band you get, that's the team you're on. (It was Team Mario for me!) The six bands available right now are Mario, Luigi, Princess Peach, Toad, Yoshi, and Princess Daisy. As you collect coins during your visit, you'll be contributing to your team's score. To check your score, there are stations in the land, but you can also link your Power-Up Band in the Universal Studios app and check your ranking there as well.
Collecting coins is fun, but it's interacting with the land that's the big draw here. To get coins, you have to tap your Power-Up Band on things like question mark blocks or your steering wheel while racing through the Mario Kart: Bowser's Challenge ride. Your band also works with the Key Challenges in the land.
These mini games — Goomba Crazy Crank, Koopa Troopa POWer Punch, Piranha Plant Nap Mishap, and Thwomp Panel Panic — are interactive challenges that let you go up against some of your favorite enemies from the Super Mario games. Once you defeat Goomba, Koopa Troopa, Piranha Plant, and Thwomp, you'll be able to tap your band and collect a key. After you have three keys, you can battle Bowser Jr. in the final boss battle. This interactive game is fun and hilarious as you swat at Bob-ombs and jump to collect Fire Flowers. I had no idea that without a Power-Up Band, you'd be missing out on so many things to do.
Let's face it, the Super Nintendo World area is small; it's not its own theme park. It's just a land within Universal Studios Hollywood, which is already kind of limited on space. However, the band really makes it a land you'll want to spend hours in, playing around with your friends.
TL;DR: It's a must-buy.
How To Get A Power-Up Band At Super Nintendo World
While $40 may seem like a lot at first, it's not that bad when you consider it's also a great souvenir to take home. You can find the Power-Up Bands at the 1-Up Factory Store, which is the only merch shop in the land. There are a few kiosks where you can purchase Power-Up Bands as well.
Now that you know Power-Up Bands are worth it, the only question you have to ask yourself is which character are you picking? The Mario band is a classic, but the Toad design will match just about any 'fit you're planning. If you struggle with selecting a character for Mario Kart game night, deciding on a Power-Up Band will be more difficult than defeating Bowser.