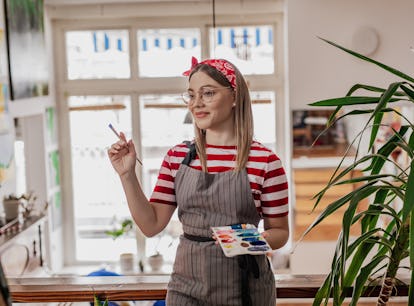 Sorority Paddle Ideas On TikTok To Inspire Your Own DIY Project
It's time to gather the paint, rhinestones, and glitter!
Maca and Naca/E+/Getty Images
Sorority paddles are a symbol of sisterhood and house pride. They're often given as presents for special occasions like a Big welcoming their Little during initiation or for a special birthday. The best part about giving a sorority paddle as a gift is that they're often decorated to reflect your sister's interests. The more effort you put into your paddle's design, the more your sister is bound to love it. The problem is coming up with something cute and unique on the spot. Luckily, you can always turn to sorority paddle ideas on TikTok for inspiration.
Think of TikTok as a secondary sorority sis who is always ready to come in clutch. With a simple search, you can find rush week inspo, Big Little reveal ideas, and now, sorority paddle ideas. In fact, TikTok has a ton of creative ideas you can use when crafting your sister's paddle to make it one of a kind. Try something super artsy with lots of paint and glitter or go for a paddle that will make your sister LOL with all the inside jokes.
Between all the painting hacks and design ideas, you're sure to find something from this list of nine sorority paddle TikToks that will help you out with your own project. You may even want to recreate some of these paddles, but put your own personal spin on them with your sister's name, your letters, and a quote she'll love. Whatever you decide, you'll have a picture-perfect paddle in no time, thanks to TikTok.