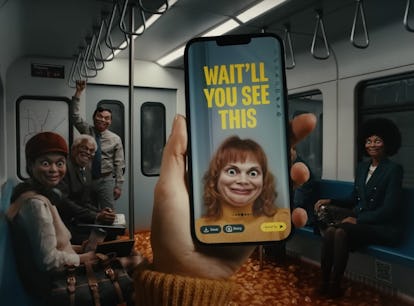 Snapchat's AR Commercial Has People Totally Creeped Out
This ad needs a viewer discretion warning.
Youtube/Snapchat
There really can be too much of a good thing, as was made clear by Snapchat's new commercial touting its augmented reality (AR) capabilities. The ad went viral on Jan. 29, and it's a lot to take in. It starts out innocently enough, with some people riding in a subway car, but then it takes a surreal turn by asking, "What if you could see the world in a more interesting way?" It turns out "interesting" to Snapchat means using filters that turns people into horses and creating an anthropomorphic planet earth. They're all visuals you've probably encountered on the app before, but seeing them all at once had users a little creeped out — and they tweeted their ~thoughts~.
The minute-long Snapchat ad titled "Wait'll You See This" aired during the NFL AFC Championship Game on Jan. 29 and is going viral on Twitter for its unusual take on an alternate reality that has some people wanting to delete the app entirely. The ad was intended to be attention-grabbing and get Snapchatters curious about being more creative with the app, per Snap.
Snap's dog filter is cute for selfies but I'd be lying if I said that wouldn't scare me IRL. The ad also presents bizarre possibilities including horses as coworkers to demonstrate the Horse Head Lens. (You're probably thinking, that wasn't in the job description.) The ad ends with a Snapchat user on the subway and the other riders with the viral Shook Lens staring into your souls. Oh, and the floor of the train is covered in baked beans... The totally trippy ad is the definition of "AI-nxiety" aka "the sense of foreboding as to whether or not what you're seeing is being created by man or machine," according to Day One Agency.
According to Snap, the spot was meant to get people talking, and it did. Some Twitter users called it "terrifying," even comparing it to a "horror movie" trailer.
Snap isn't just giving you "nightmare fuel" with the ad — the company is blurring the lines between reality and filters. Each frame of the commercial is also scannable using the Snapchat camera, per the company. To try any of the AR experiences you see in the commercial on your phone, simply point your camera at any scene to be directed to the AR Lenses, and some people are digging it.
If you dare, take a look at the AR Snapchat commercial for yourself:
Will Snapchat Have A Super Bowl 2023 Commercial?
Since Snap caught the eye of football fans on Jan. 29, you might think the company is gearing up for even more to share during the big game on Feb. 12. According to the company, there won't be any new ads airing during the 2023 Super Bowl, so you can be assured your local TV anchors won't be sporting the Unhappy Face Lens
Just because the social media company is sitting out the Super Bowl doesn't mean you won't see some more AR in unlikely places. The commercial kicked off the company's 2023 campaign aptly titled "Wait'll You See This." According to the brand, the ads will reach people in unexpected places (like during football playoffs), so keep your eyes peeled and your Snap Camera open.