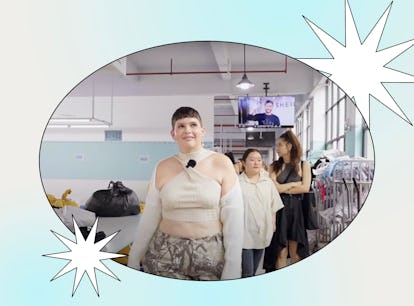 A Complete Breakdown Of The SHEIN Influencer Trip Drama On Your FYP
The brand wants to "provide more transparency," but did it work?
Influencer brand trips and controversy seems to go hand in hand these days. Earlier this year, Tarte Cosmetics received backlash on TikTok for its viral "Dubai" trip and the Tarte Island vacay months later. Now, it's SHEIN's influencer trip drama that seems to be taking over the FYP. This time, however, people aren't mad about bougie budgets and inclusivity (or lack thereof). Instead, it's the influencers, not necessarily the brand, who are facing the brunt of the backlash due to claims they misrepresented the trip.
While this isn't the first time the fast fashion company has found itself under fire due to alleged poor working conditions at its factories, this trip in particular is making waves online because content creators have entered the chat and are the ones attempting to set the record straight. SHEIN flew out influencers via business class, put them up at a five-star hotel, and had them check out just a few of the brand's factories for themselves. The vlogs of their time on the trip seemed to overemphasize how great the working conditions were, and viewers weren't buying it. Some also questioned why these content creators had agreed to go on the brand trip in the first place.
In response, a SHEIN spokesperson tells Elite Daily, "SHEIN is committed to transparency and this trip reflects one way in which we are listening to feedback, providing an opportunity to show a group of influencers how SHEIN works through a visit to our innovation center and enabling them to share their own insights with their followers."
Since there's sooo much to unpack, here's everything you need to know about the SHEIN influencer trip drama and all the backlash that's come from it so far:
What Is The SHEIN 101: On The Road Influencer Trip?
In mid-June, SHEIN flew influencers like Dani DMC, Destene and Brandon Sudduth, and AuJené Butler out to Guangzhou, China for its SHEIN 101: On The Road trip. On the first day, the creators checked into the Four Seasons Hotel Guangzhou. According to SHEIN's vlog, each creator was given their own Superior Room with views of the Canton Tower and goodies like a pillow, blanket, and custom pajamas were waiting for them. Four Seasons hotels are favorites of The White Lotus, and these rooms are priced at around $346 a night. For at least four days, that means SHEIN spent around $1,384 per creator on hotel accommodations alone. The influencers were also flown to Singapore, where they stayed at The Fullerton Hotel Singapore; one of the cheapest rooms at that five-star resort is also around $350 a night.
According to Destene Sudduth, the creators were brought to different SHEIN factories to see how the conditions were. Day Three included a trip to the SHEIN Innovation Center, and Day Four was a trip to the Dawang Weilong sorting warehouse. So, instead of camel rides and pool parties, like on Tarte's Dubai trip, these creators were shown SHEIN's factory conditions as part of their daily schedule. The factories the creators visited were massive, well-lit, and full of high-tech equipment.
This was the first thing some TikTokers had a problem with, claiming that SHEIN's trip had creators making videos that showcased only its "pretty" factories. As host of the Gloss Angeles podcast Kirbie Johnson pointed out, this was just a few of over 6,000 factories that SHEIN has, so it might not be representative of the company's working conditions. However, Destene said in her Reel that she was surprised by the SHEIN factory she saw and loved how "each piece [was] handled with care" and got to talk to the designers. After visiting the Innovation Center, she also said she was pleasantly surprised to see the factory wasn't crowded and even asked the workers about their hours, which were "normal."
In a statement, a SHEIN spokesperson tells Elite Daily, "[The creators'] social media videos and commentary are authentic, and we respect each influencer's perspective and voice on their experience. We look forward to continuing to provide more transparency around our on-demand business model and operations."
What Is The SHEIN Influencer Trip Controversy?
The main backlash that's been seen online has been directed toward the creators for allegedly spreading misinformation. For example, Dani DMC came under fire after sharing a TikTok recapping her trip while "debunking some rumors" about SHEIN. The 30-year-old influencer, who referred to herself as an "investigative journalist," appeared to be reading off a script from SHEIN in the TikTok, and she revealed that she was being paid by the company to promote the brand as part of her contract deal.
After receiving hate from her TikTok, Dani DMC posted a now-deleted response video claiming people didn't know what they were talking about regarding the trip and SHEIN's factory conditions since they weren't there. She also said that she specifically works with SHEIN because of its affordability and size-inclusivity.
The backlash toward creators on SHEIN's brand trip didn't sit right with some, like Johnson, who noted that the company invited smaller creators who haven't been on big brand trips before. Unless you're a content creator, it's hard to know how they decide who they work with and what kind of information they're sharing, especially when luxe dinners, fancy hotels, and bougie flights are involved. However, considering how commonplace brand trip drama is nowadays, it looks like fans are taking a closer look at the companies their fave influencers are teaming up with.