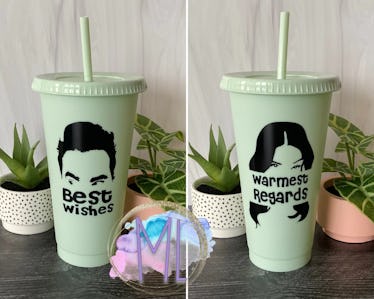 12 Etsy Shops With Cute Schitt's Creek Merch For Every Rosebud In Your Life
Send your "best wishes" and "warmest regards" with the right gift.
The person you send all your Schitt's Creek TikToks and "ew, David" texts to whenever they need an LOL is the Alexis Rose to your David Rose. Chances are your love of the series started when you marathon-watched all of Schitt's Creek together on Netflix. It's simply the best, which is why it makes perfect sense that you'd want to give them something that references your favorite show together for the holidays. If you want something unique, you'll want to check out these Etsy shops with cute Schitt's Creek merchandise for inspiration.
Nowadays, you can find just about anything you're looking for on Etsy. It's the go-to place for artists to totally flex their skills, while fans get to purchase special pieces from the fandoms they love so much. If you're a Schitt's Creek lover, you'll get a kick out of the "fold in the cheese" wooden spoons and Rose Apothecary-like sugar scrubs from Etsy. You may even want your very own "ew, David" crewneck to rock in the winter, but there are plenty of gifts to get your BFFs as well. Thanks to these Etsy shops with cute Schitt's Creek merchandise, you won't be positively bedeviled with all the options out there.
Whether you're shopping for the holidays, a birthday, or beyond, here are 12 Schitt's Creek shops on Etsy you need to check out right now. You never know, you just might find something that's "a little bit Alexis" and a lot of what you love.
We only include products that have been independently selected by Elite Daily's editorial team. However, we may receive a portion of sales if you purchase a product through a link in this article.
This article was originally published on