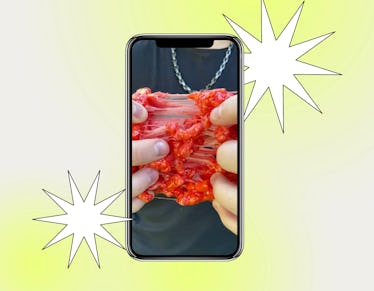 TikTokers Are Making Rice Krispies Treats With Flamin' Hot Cheetos
The s'mores recipe is perfect for your summertime hangs.
Nowadays, there are very few recipes you aren't willing to try. Especially if you see your favorite TikTok creators making cookie dough bread or a bowl of pancake cereal, you have to whip out your pans and whisks, and bring the sweet treats to life in your own kitchen. The next recipe to conquer? One of the Rice Krispies Treats recipes on TikTok that'll surely make your mouth water every time you hit play.
These recipes take the treats you know and love, and bring them to a new and dreamy level. They toss in unexpected ingredients like spoonfuls of cookie butter, strawberry-flavored cereal, frosting, and rainbow-colored sprinkles to ensure your tastebuds have a #legendary experience. When you're creating the sticky marshmallow mixture on your hot stovetop or whipping out your specialty cookie cutters, you'll realize how genius the users who posted the recipe videos really are. You may even open up the TikTok app and record your own video, so you can shoutout the users in your caption who gave you such tasty inspo.
Of course, before you can make that post, you have to pick one of these 10 recipes here to try out at-home. Beware: They'll make your mouth water from the minute you hit play.
This article was originally published on