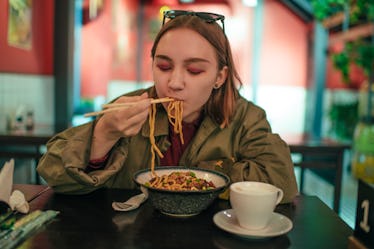 10 Ramen Recipes From TikTok That Reimagine The Go-To Noodle
A four-course ramen meal.
ArtMarie/E+/Getty Images
The ramen side of TikTok has come a long way since you first saw TikTokers putting Trader Joe's Everything But The Bagel Seasoning Blend in their bowls. While you might have thought the combo was strange at the time, your brows will really rise when you see what ramen recipes are being cooked up on the platform now. There are a number of creative TikTok recipes using ramen to make different foods like lasagna, pizza, and smoothies, and you're going to have to see them for yourself to believe them.
Right about now, you're probably wondering how a ramen smoothie tastes and if it's any good. According to one TikToker, it absolutely is. After checking out these TikTok ramen recipes, you'll see how these inventive creations not only look super tempting to eat, but are also just as easy to pull together as your typical ramen bowl. You could even whip up an instant noodle dish for every meal of the day. Start off your morning with a ramen smoothie, enjoy a lasagna ramen for lunch, and a pizza ramen for dinner. To end your day, why not try out a ramen dessert recipe while you're at it?
Once the initial shock of watching these unique TikTok ramen recipes wears off, you'll be so amazed at how everything comes together that you won't be able to resist recreating them for yourself. So, gather the roomies for a four-course ramen meal and get ready to take your tastebuds on a wild ride.
This article was originally published on