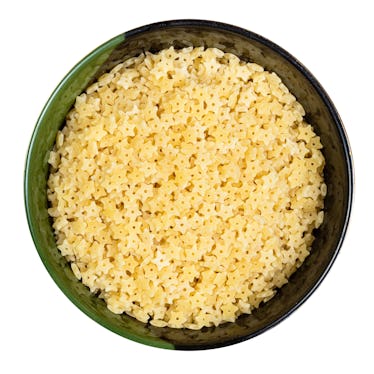 6 Pastina Recipes On TikTok That Are Nonna-Approved
These "Little Stars" are a comfort food staple.
Shutterstock
Pastina is currently trending on foodie TikTok, but ask any Italian American you know, and they'll tell you they grew up on this stuff. Pastina refers to any kind of teeny-tiny pasta, and there are lots of different shapes from round acini de pepe to alphabet letters. It's most recognizable in the adorable Stelline shape, which directly translates to "little stars." It cooks like any regular pasta in salted water or chicken broth to form a thick porridge that you can top with tons of cheese, breadcrumbs, protein, and veggies for a cheap, easy, and satisfying comfort meal. Check out these pastina recipes from TikTok that are Italian grandma-approved to get you through the cold winter.
Recently, Pastina went viral on TikTok when the the pasta brand Ronzoni announced they were discontinuing the beloved "little star" macaroni shape and users promptly freaked out . Some started stock piling pasta boxes, while others tried to make the most of what they had remaining in their pantry. But not to worry, because there are tons of other pasta brands that wouldn't dare drop the Italian staple, like Barilla, De Cecco, and Prince.
The creamy, nostalgic dish is known as "Italian penicillin," because it's a go-to, one-pot meal Italian parents and grandparents whip up when the little ones are sick. Growing up Italian, creamy pastina boiled with broccoli and topped with mounds of parmesan was a weekly meal in my grandma's house. The simple recipe stayed with me through my college years and beyond, because, to this day, it still cures any bad day. Next time you're at the grocery store, grab a box of pastina for a few bucks to keep around for lazy dinners.