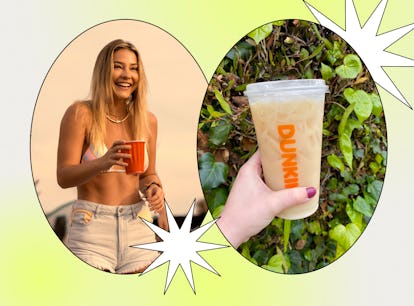 I Tried TikTok's Outer Banks Drink From Dunkin'... Sort Of
This secret menu item is as difficult to order as it is to find El Dorado.
Jackson Lee Davis/Netflix/Rachel Chapman/Elite Daily
The Pogues are back for another season of Outer Banks on Netflix. Many OBX fans have already marathon-watched all 10 episodes of Season 3 (and have so. many. questions), but if you still need to catch up or plan to rewatch, you'll want to have the proper snacks on standby. For your drink of choice, you should consider trying an Outer Banks drink from Dunkin'. While Dunkin' doesn't currently have an official OBX-themed drink on its menu, TikTok has a refreshing *new* sip inspired by the show.
Back in 2021, around Outer Banks Season 2, TikTokers came up with an Outer Banks-inspired drink at Dunkin' that was lemonade with four pumps of coconut and a shot of blue raspberry Coolata. That OG OBX drink was refreshing and very reminiscent of living in the south next to the beach. Unfortunately, Dunkin' no longer has lemonade on its menu to make this recipe possible, but when has a little roadblock ever stopped a Pogue from getting what they want? The answer is never. Similar to how John B and his crew have to readjust their plans when Ward Cameron throws a wrench into the mix, you've got to find a plan B for getting an OBX drink for your Season 3 watch.
TikToker @travelingtastebuds has discovered a new green tea drink that you can try to order at Dunkin' that's just as refreshing, albeit a little complicated.
How To Order The Outer Banks Dunkin' Drink
Unlike Starbucks, which is known for customers really customizing their drinks, Dunkin' is a bit more restrictive. You cannot order the OBX drink from the Dunkin' app, so you've got to go in store or through the drive-thru. Even then, you may not get @travelingtastebuds' exact order, but you can get something pretty close.
First, order an iced green tea with both raspberry and blueberry shots along with the liquid cane sugar sweetener. To give your drink the OBX ocean blue shade, add in a shot of the blue raspberry Coolata. Then, top off your drink with some cold foam.
An Honest Review Of The Outer Banks Drink From Dunkin'
Ordering the shot of blue raspberry Coolata was the most difficult for me. I was told by my barista that they couldn't do that, but you may have better luck convincing your local Dunkin'. Without the blue raspberry flavor, your drink will not be blue. Instead, you'll have an orange-colored drink that becomes more tan once the cold foam mixes in. While the blue shade is very reminiscent of the water in OBX, the show is generally more warm-toned, so it may actually be more fitting to get an orange drink anyway.
For the flavor, the difference is that the blue raspberry will add more tartness to the drink. Personally, I found that the green tea with raspberry and blueberry didn't need any additional fruit flavoring; it was pretty sweet as is, so adding more might actually overpower it. The cold foam did do a good job at balancing out some of that sweetness to make it more creamy.
If I can find a Dunkin' that will add in the blue raspberry Coolata, I would like to try it. But overall, I found the raspberry and blueberry green tea with cold foam blend to be quite delicious and a great fruit-filled sip to enjoy as I watched Outer Banks Season 3 at home.