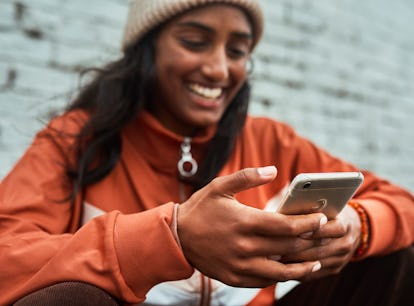 TikTokers Are Roasting Themselves With The "Oops Got Your" Trend
What do you mean listening to Taylor Swift isn't a coping skill?
LaylaBird/E+/Getty Images
The beauty of TikTok is seeing trends first emerge on the FYP and slowly evolve over time. One of those is the "oops got your" trend on TikTok, which started out as a prank TikTokers were pulling on their parents. You may remember the faux Kohls ad that was all over the FYP around the holidays, with kids playing the NSFW ad to get their parents' shocked reaction. That evolved into an "oops got your" meme using the Jessie TikTok voice effect, which makes your voice sound like a commercial voiceover.
Now, the meme has transitioned into a way for users to out themselves on everything from their fave Taylor Swift song to their go-to coping skill. While Instagram is a more curated social media platform where users pick the best and most 'Gram-worthy photos to share on their feed, TikTok has always been a little more real. It's not a fully authentic, BeReal-type app, but some users definitely err on the side of TMI sometimes. For anyone who enjoys keeping it real for the FYP mixed with some self-deprecating humor, you'll love the "oops got your" TikTok trend.
Using a variety of sounds that begin with "oops got your," TikTokers are revealing things like their fave comfort character, the one thing they've based their personality on, and what they're attracted to. Each TikTok sound kind of pokes fun at the TikToker for their choice, but in a very LOL-worthy way. If you're ready to share your choices, here are eight versions of the "oops got your" trend — though, you can always create your own.