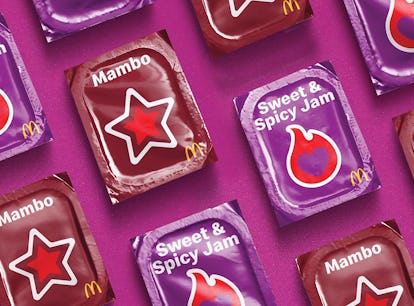 My Honest Review Of McDonald's Newest Dipping Sauces
The chain's first-ever breakfast one was unexpected.
Courtesy of McDonald's
McDonald's fans now have more options for dipping their Chicken McNuggets and breakfast sandwiches. Six months after releasing packets of its iconic Big Mac Sauce, the fast food chain dropped a Mambo Sauce as well as a Sweet & Spicy Jam on Monday, Oct. 9 — and both offerings come with a sweet and spicy kick of flavor. Since the jam is McDonald's very first breakfast-inspired dipping sauce, I decided to head to my Mickey D's early in the morning to try the limited-edition options out.
Made with "jammy red pepper," the southern-inspired Sweet & Spicy Jam claims to add a burst of heat to your go-to Mickey D's order, thanks to a "tongue-numbing Szechuan peppercorn kick" and cayenne pepper. Meanwhile, the Mambo sauce — which is inspired by a staple from the Washington, D.C. area — has a tomato base with sweet, spicy, and vinegary notes. Since McDonald's recommends Chicken McNuggets as one of the best pairings for both sauces, I ordered a 10-piece set during my Golden Arches visit to really compare the two offerings.
McDonald's Sweet & Spicy Jam Review
Dipping my nuggets into the Sweet & Spicy Jam, I was surprised by how much of a jam consistency it had — and that comparison only increased when I took my first bite. It was hard to place the red pepper flavor (in my opinion, it almost seemed like a mix between a strawberry and apple jam, because the apple cider vinegar finish really came through. While the description online really touted just how spicy it was, I barely noticed the heat. Instead, the sweetness was the predominant flavor. I thought it was OK with the Chicken McNuggets, but I think it would go slightly better with a Sausage McMuffin or a plain biscuit.
McDonald's Mambo Sauce Review
While the color of the two dipping offerings were almost identical (a reddish-orange tint), the Mambo Sauce had a less thick, almost syrup-like consistency when I dipped a nugget into it. Taking my first bite, my tastebuds immediately got the spiciness of the sauce, followed by a smoky and sweet aftertaste with hints of paprika. It almost reminded me of a barbecue sauce, except with more sweet and sour undertones. I liked this sauce with the nuggets, but I think it would also go well with a Quarter Pounder or Big Mac.
While the Mambo Sauce reigned surpreme out of the two dipping options for me, McDonald's fans can find their own favorite by trying one (or both) of the new offerings for a limited time.