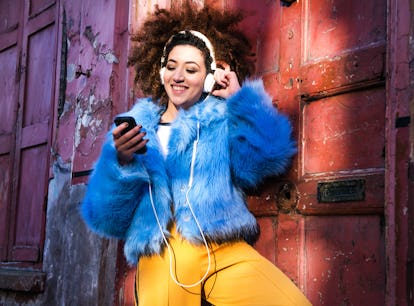 The Luckiest Zodiac Signs Of October 2023 Have Serious Rizz
No more failed talking stages.
The fall equinox is in full effect, which means transitions are around every corner. Iced lattes are turning into hot chocolate, baby tees are turning into sweaters, and with summer come and gone, finding a special someone to take with you to the pumpkin patch is now all the rage, thanks to Libra season. As the sun continues through the sign of the scales, every zodiac sign is compelled to seek out satisfying companionship to keep them warm during the holidays. However, while everyone will feel eager to mingle and socialize, the four luckiest zodiac signs of October 2023 will be more prone to engaging in cuffing SZN festivities, due to their natural ability to initiate new connections.
Libra is the social butterfly of the zodiac, so this season is the most favorable for prioritizing relationships. There will be an effortless ability to relate and understand others during this time of year, making it easier to couple up with someone who shares similar interests as you. Since the start of Libra season coincides with the start of the fall equinox, there's a desire to find a healthy balance in all areas of life, due to the days and nights reaching equal length. With cardinal signs (Aries, Libra, Cancer, and Capricorn) each being initiators in their own way, this season support their characteristics the best, allowing for more opps for mingling.
Here's what these four lucky signs can expect from October's astrology:
Aries Zodiac Signs (March 20 - April 19)
As the sun travels through your seventh house of romantic affairs this month, illuminating your desire for connection and socialization in your relationships with others. This time of year tends to shift your focus more toward your relationships with others, rather than the one you have with yourself. While this may feel like it's pulling you away from your independent pursuits, it's allowing you to strengthen your partnerships in new ways. You'll come to find that your relationships with others are a direct reflection of yourself, Aries, and when surrounded by the right people, they assist with your personal growth.
Cancer Zodiac Signs (June 21 - July 22)
As the sun continues through your fourth house of home and family this month, your desire for connection, balance, and intimacy in your private life will be your main priority. It's essential that you have not only a safe space to retreat to, but a tasteful environment that supports your desire for intimacy with others. This month, you'll be made more aware of this desire, and may feel inclined to bring more pleasure into your natural habitat through hosting events, re-decorating, or spending more time with family.
Libra Zodiac Signs (Sept. 22 - Oct. 21)
This month, the sun will continue through your first house of self-expression, shifting your awareness to your identity, appearance, and personal autonomy. You'll be feeling more inclined to prioritize yourself this season, which will allow you to attract healthy, supportive relationships. You're used to prioritizing your connections with other people, Libra, but you'll be paying more attention to others make you feel, instead of worrying about whether or not you're being well-received. While your relationships will still be a focus, your main priority will be self-development – so feel free to make this season all about you and your desires.
Capricorn Zodiac Signs (Dec. 20 - Jan. 21)
As the sun continues to travel through the social, creative sign of Libra this month, your desire for accomplishments and success in your professional life will be front and center. As a natural go-getter, you're always looking for ways to connect to the world through your career, and this season is an ideal time for doing so. You may be launching a new business or gaining recognition for work you've done during this time, as well as joining forces with a colleague or co-worker. Others want to support your vision now, Capricorn, so be sure to let them.