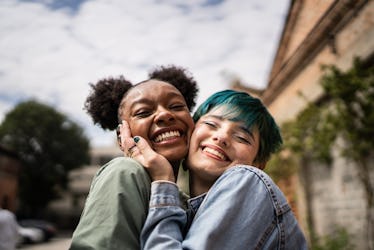 The Luckiest Zodiac Signs Of November 2023 Will Feel Motivated
Surface-level discussions out. Heart-to-heart convos are in.
Scorpio season is kind of a big deal; it's the only time of year that includes witchy costumes, horror films, and plenty of overwhelming feelings. When the sun makes its way through this fixed water sign, trivial interests turn into late-night deep dives, and casting love spells on your crush starts to seem way more endearing than obsessive and creepy. During this time, no one's exempt from the all-consuming vibes, but there are four lucky zodiac signs in particular that can expect to feel their passion skyrocket throughout November 2023.
Scorpio is a Mars-ruled sign that's driven by passion. While this sign tends to get a bad reputation, the dates around Oct. 23 through Nov. 21 are most favorable for accomplishing your deepest desires. If the flirtatious vibes of Libra season had you feeling scatter-brained and distracted, expect to feel focused and unwavering in your motivation when the sun's in Scorpio, especially if you're one of the fixed signs. For Taurus, Leo, Scorpio, and Aquarius, consistency has never been a challenge. They each thrive when given something to fixate on due to their modality, making the month of November a time when they can lock in and achieve their goals.
Here's what these four lucky signs can expect from November's astrology:
Taurus Zodiac Signs (April 19 - May 21)
You'll be deep in your feelings this month, Taurus, especially in regards to your romantic affairs. As the sun continues through your seventh house of relationships this month, you'll be immersing yourself in the deep, intimate connections that exist between you and other people. Although this energy may go against your usual behaviors, it's providing you with the depth you crave in your love life. You may find yourself newly infatuated with a special someone, or simply leaning into your social life a bit more. Nothing about this month will feel surface-level, so expect your encounters to feel pretty intense (but secretly, that's exactly how you like it).
Leo Zodiac Signs (July 20 - Aug. 21)
As your chart ruler, the sun, makes its way through your fourth house, you'll be swapping out your typical social demeanor for deep internal introspection regarding your household. You crave an environment that feels emotionally stable and unchanging, and as this season continues, your desire for more preservation in your private world will be a main priority. You may find yourself solidifying your domestic affairs, or doing a deep-dive into your family's ancestry. Privacy will feel more vital as this season continues, causing you to only surround yourself with people, places and things that you can trust.
Scorpio Zodiac Signs (Oct. 21 - Nov. 22)
As your season continues, you'll be increasingly aware of your identity and current sense of self. While you're not the biggest fan of being the center of attention, you'll be receiving more acknowledgement than usual, putting your passion and resilience on display. You'll be working steadily on your own personal goals, which may attract the attention of some, but you'll remained unfazed, as usual. *You* will be your main priority this month, Scorpio, so try not to get too lost in the depths of your own mind, and invest in a little self-care. You deserve it.
Aquarius Zodiac Signs (Jan. 20 - Feb. 19)
The sun's journey through Scorpio continues this month, and sheds light on your current career goals and professional pursuits. During this season, you may find yourself fixated on a new role at work, or a new business venture you're passionate about. You may also find yourself in the limelight, as others will be more inclined to acknowledge your hard work. While you usually prefer to celebrate your success behind the scenes, this season encourages you to be louder about your wins. If your peers or colleagues want to celebrate you, allow them to, Aquarius. Modesty is admirable, but don't be afraid to flex a little bit.