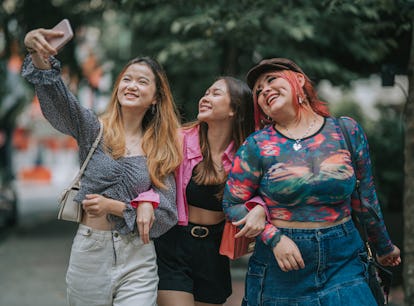 The 4 Luckiest Zodiac Signs In April 2023 Will Be Too Hot To Handle
'Tis the season for stowing away your heavy sweaters, prepping Easter baskets for your faves, and allowing yourself to embrace all that Aries season has to offer. Spring is not only a time to sprinkle your lawn with vibrantly colored eggs, it's a time of excitement and suspense. As the astrological new year continues, this cosmic season buzzes with new promise and motivation, which means that you probably have a lot to do in what seems like very little time. Fortunately, not everyone will feel like they're running a mile a minute. A select few will be the luckiest zodiac signs in April 2023, and they definitely won't waste their good fortune.
As the sun continues through the assertive sign of Aries until April 20, everyone will be encouraged to take initiative in a way that's instantaneous and unquestionable. This can be a time of year that feels a bit more impulsive, so you may find yourself acting so quickly that you don't give yourself much time to think about it beforehand. While this may sound a bit chaotic, cardinal signs are natural innovators, taking the lead in their own, distinct ways. They each have Aries in a fundamental area of their birth charts, so they'll benefit from this hasty, uninhibited energy more than others.
Here's how these four signs will be affected:
Aries (March 21-April 20)
You're shining brighter than ever this month, Aries, as the sun continues through your first house of personal identity and self-expression. You're used to taking the lead, but this month, you'll be gaining recognition for your solo projects and endeavors, particularly the ones that align with your individuality. Now is the time to assert yourself, take action, and put yourself out there — something you're no stranger to. You're finally entering a season that will reward you for focusing solely on yourself, so don't be afraid to make this season all about you and your ambitions.
Cancer (June 20-July 22)
As April unfolds, the sun will continue through your 10th house of career and public image, bringing your successes and accolades into sharp focus. Don't be surprised if you gain more recognition this month, Cancer, your fearless ability to take action in your profession is something that's worth celebrating. While this energy may go against your bashful nature, it's important to allow yourself and your efforts to be seen this month. Just keep in mind that with more notoriety comes more pressure, so you may be more prone to becoming overwhelmed by the attention.
Libra (Sept. 21-Oct. 22)
This month is increasing your desire for partnership and romantic connection, Libra (yes, even more so than usual). As the sun continues through your seventh house, you'll be setting your sights on bonding and connecting with the people around you in a direct, fearless way. Companionship is more of a priority for you now, and you'll be mainly setting your sights on people who are direct, assertive, and independent. As the sister sign to Aries, you can learn a lot about yourself this season through other people — so be sure to pay close attention to what they show you.
Capricorn (Dec. 21-Jan. 19)
Though you typically take initiative in your day-to-day, April is a time to tend to your roots, particularly the ones at home. You're a pioneer in many areas of your life, especially in your family — and this season could be a time for you to step up to the plate in some way. While this may not be a time where you're incredibly visible, you'll be too busy setting your sights on initiating new endeavors and pursuits behind closed doors. If changes need to take place in your environment, you'll have plenty of energy to get things moving. Just pace yourself, because you're not used to so much swift change.