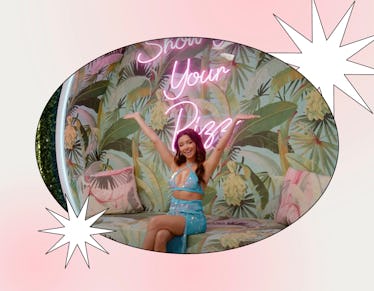 The Love Island USA Pop-Ups Are Definitely Your Type On Paper
You could be the next bombshell to enter the villa.
This summer just got a little hotter with the premiere of Love Island USA Season 5. A new batch of contestants are settling into the villa in the hopes of finding their true love (or latest hookup). Este Haim may have declared 2023 as "single summer," but after watching the newest episodes — which started streaming on Peacock on July 18 — you may be ready to become an islander yourself. Instead of sending in an audition tape the old fashioned way, you can record one at one of the new Love Island USA Pop-Ups and actually get a chance to be the latest bombshell. Mind. Blown.
Ahead of the S5 premiere, Peacock sent influencers like Remi Bader and GirlBossTown to Fiji to explore the IRL Love Island USA villa. (The FOMO is *real*.) Since that's not possible for everyone though (sad face), the brand teamed up with Tinder to bring the Love Island USA villa to fans with two LI-themed experiences, via their new "It Starts with a Swipe" campaign — one in Austin, Texas and Nashville, Tennessee. At each event space, you'll be able to snap some new pics for your dating profile, meet previous islanders, and record an audition tape to possibly become a contestant on Love Island. This is your chance to visit the villa without a passport, fam.
If you want to possibly find your type on paper, here's everything you need to know about the Love Island USA Pop-Ups:
Inside The Love Island USA Pop-Ups
The main attraction of the Love Island Pop-Ups is a chance to record your own audition tape. Every fan knows an iconic entrance is key to coupling up and will make sure all eyes are on you. After your grand entrance, share some spicy stories from your dating life while snapping some stunning pics. As the neon sign in the villa says, use this moment to really "show off your rizz."
Your bombshell entrance moment can be shared on IG, along with a fun voiceover from Love Island USA host Sarah Hyland. After that, you'll be able to snap some additional pics in the Love Island bedroom, and possibly meet previous contestants like Deb Chubb, Sydney Paight, and Isaiah Campbell.
When Do The Love Island USA Pop-Ups Open?
The Love Island Pop-Ups will be making their way to Austin and Nashville back-to-back weekends this month. The villa will first arrive in TX on July 22, followed by TN on July 29. Each pop-up will be located in a parking lot, which might not sound glamorous at first, but Peacock is planning to transform each location into an islander-worthy interactive activation. Here's where you can find each villa:
The Love Island USA Pop-Up Austin Address: 75 Rainey Street, Austin, TX 78701
The Love Island USA Pop-Up Nashville Address: 203 Broadway, Nashville, TN 37201
Entry for the pop-ups will be on a first come, first served basis, so you'll want to head over early. The activations will also be for islanders 18 years and older only.
Love Island USA is available for streaming on Peacock every day during premiere week starting at 9 p.m. ET, with new episodes streaming Thursdays through Tuesdays starting the following week.