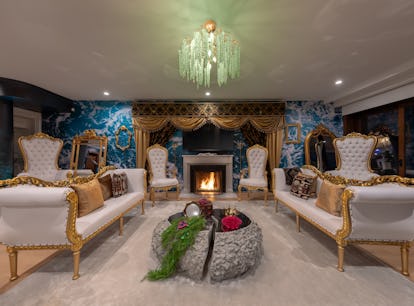 Inside Booking.com's Little Mermaid "Under The Sea" Beach House
The Insta-worthy booking includes airfare, a private chef dinner, and more.
Booking.com
Considering "the seaweed is always greener in somebody else's lake," traveling is a must this summer. Of course, the question is where you should go. With the upcoming release of Disney's live-action The Little Mermaid, Booking.com is offering fans a chance to be a part of Ariel's world with their "Under the Sea" stays in Malibu for only $5.26 in June — a nod to the film's release date on May 26. Plus, every room in the mermaid-inspired beach house is full of Insta-worthy details and easter eggs that'll make your experience so magical.
Not only does each stay cost around the same price as your fave latte, but airfare and transportation will also be included. Basically, you're getting a better deal than what Ariel got from Ursula. The catch is these once-in-a-lifetime stays will be available on a first-come, first-served basis, so you'll want to be as prepared as possible when the booking opens so you can snag your spot.
In addition to a luxe room inspired by The Little Mermaid characters, your "Under the Sea" adventure will also include a private dinner by a personal chef and a screening of the all-new The Little Mermaid starring Halle Bailey and Melissa McCarthy. McCarthy, who happens to be a Booking.com spokesperson, shared, "If someone told me I could stay in a Malibu beach house inspired by The Little Mermaid, I would pack my bags and move in tomorrow." Ready to dive in yourself? Here's a look inside this one-of-a-kind stay filled with Little Mermaid easter eggs and what you need to know to relax "Under the Sea" in Malibu.
Inside Booking.com's "Under The Sea" Malibu Stay
The Little Mermaid-inspired beach house in Malibu will have Insta-worthy rooms themed after different characters from the film, like Ariel, Ursula, King Triton, and Prince Eric. There is a bench with two paddles, which reference to Price Eric and Ariel's date during "Kiss The Girl." There's also a room full of gadgets and gizmos a-plenty, which will make you feel like you're in Ariel's grotto. The balcony even has pillows in Ariel's colors — teal and purple — so the Little Mermaid vibes are all around. While you'll want to snap as many pictures of the decor, the oceanfront views from your balcony will also be a sight to see. Miley Cyrus wasn't lying when she sang that "the sky is so blue in Malibu."
Included in your stay, you'll also be treated to a private chef dinner. Hopefully, it's less stressful than Chef Louis cooking in Disney's OG Little Mermaid. After your meal, your itinerary includes a trip to see The Little Mermaid at a nearby theater. When you're not chowing down with dinglehoppers, watching The Little Mermaid on the big screen, and singing "Part of Your World," you can be also "stay all day in the sun" just like Ariel would want.
When Is Booking.com's "Under The Sea" Malibu Stay?
The Little Mermaid splashes into theaters on May 26, but the booking window for the "Under the Sea" stays won't be available until June 7 at 12 p.m. ET. Just like Ariel didn't have much time to plan after signing away her voice to Ursula, you won't have too much time to plan for your Malibu adventure if you're one of the lucky three to book a stay. The "Under the Sea" overnight stays will take place on June 9, 10, and 11.
Don't worry about planning out your trip, though. Other than the $5.26 booking fee, Booking.com will take care of everything for you, including your flights to and from California, as well as transportation to and from your new home away from home that'll make you feel like you're a part of Ariel's world.