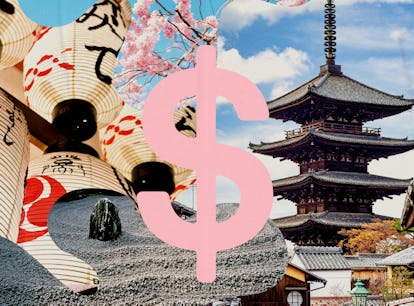 How I Spent 48 Hours & $480 On A Weekend Vacay In Kyoto
Including a secret bamboo forest and vending machine ramen.
Elite Daily; Getty Images
Tokyo might be one of 2023's hottest travel destinations, but head just a few hours west to Kyoto by bullet train, and it feels like you're stepping back in time. Unlike Tokyo's neon-lit skyscrapers and electric nightlife, Kyoto's winding cobblestone streets and ancient pagodas make way for the iconic Japanese temples and shrines you've seen all over your FYP. Even franchises like Starbucks and McDonald's are discreetly housed in picturesque wooden buildings that were built hundreds of years ago. After falling in love with the city during a recent trip to Japan with Hyatt, I put together the highlights for a two-day Kyoto, Japan, weekend itinerary that lets you experience all the city has to offer on a $480 budget.
Making my way to my hotel — the Park Hyatt Kyoto in the historic Higashiyama District — I saw crowds of tourists with iPhones mingling alongside women dressed in colorful traditional kimonos. Similarly, my two-day itinerary in Kyoto leans into the city's mix of ancient and modern activities, including visiting historic Gion — the best place to spot geishas and visit the teahouses where samurai used to talk political strategy — as well as the happening Pontocho — a lively, lantern-lined alleyway that comes alive after dark with numerous bars, restaurants, and izakayas (late-night bars that serve small plates).
IMO, you could easily spend a week in the city, but this 48-hour Kyoto itinerary distills some of the best food, activities, nightlife, and sightseeing that captures the city's unique, Insta-worthy charm.
Friday
10 p.m.: Arrive in Kyoto, Japan
Once you arrive at Kyoto train station, head to your hotel to relax and beat the jet lag with a hot bath or shower. It costs about 1,100 yen, or just under $8, to get to the Park Hyatt Kyoto from the train station.
Cost of a taxi to accommodations: $8
Saturday
8 a.m.: Walk around Kyoto's historic Higashiyama neighborhood
One of the Park Hyatt Kyoto's managers suggested waking up early to explore two of Kyoto's most iconic preserved streets — Ninnenzaka and Sannenzaka Slopes — and I'm so glad I took her advice. The empty roads made it feel like I'd stepped back in time, and I was better able to check out the restored buildings and get pictures without the usual crowds of tourists.
Unfortunately, you can't shop the stores this early in the morning, but I was able to check out the front merch display of the Hayao Miyazaki-inspired Studio Ghibli store and put together a list of paper and ceramic stores I wanted to visit later that looked promising. This is also the perfect excuse to visit Kyoto's Starbucks location inside a traditional Japanese house built over 100 years ago. It has specialty drinks and treats like a gorgeous Cherry Blossom Frappuccino, as well as tatami mats (traditional flooring made out of rush grass and straw) and a Japanese garden. IMO, the photo opps are worth the visit alone.
Cost of latte at Starbucks: $4.80
9 a.m.: Start with a traditional Japanese breakfast
As a foodie, trying a traditional Japanese breakfast was high on my bucket list. It usually comes with many small side dishes like pickled veggies and varieties of fish, served alongside fluffy white rice, broiled or grilled fish, miso soup, a Japanese omelet, and green tea.
I ordered mine at Kyoyomato, Park Hyatt Kyoto's Michelin-starred restaurant that specializes in Kaiseki-style — a traditional multi-course meal with small plates that's typical of Kyoto. Getting a Kaiseki dinner in Kyoto is a popular thing to do, but I thought this was the more cost-effective route and it crossed two things off my Japan bucket list at once.
I'd never had some of the sides before, and a few of them — like Natto (fermented black beans in a sticky white sauce) and cold baby sardines — were a bit of an acquired taste. But I enjoyed challenging myself to try a little bit of everything.
Cost of a Japanese Kaiseki breakfast: $50.93
11 a.m.: Visit Kyoto's Yasaka Jinja Shrine
Once you're done with breakfast, it's time to head out on the town for some sightseeing. There are countless shrines in Kyoto, but taking the 20-minute walk to the nearby Yasaka Shrine (also known as the Gion Shrine) leads you through the streets of the Gion District. Chances are you'll see a geisha or two, and the 1,350-year-old shrine's bright red pagoda is a popular spot to capture a pic for Insta.
One of my favorite things to do there was get a paper fortune, which you can either keep if it's good for luck or tie to the wall if you want to physically and symbolically leave it behind you. My fortune told me that I'd have lots of personal and professional hardships before my year turned around for the better, so I quickly tied mine to the wall — no one has time for that energy.
Just keep in mind that all the fortunes are in Japanese, so you'll need to translate them if you don't speak the language.
Cost of visiting Yasaka Shrine: $0
12 p.m.: Make matcha at a traditional Japanese tea ceremony
Walk half an hour, and you'll get to an award-winning traditional tea ceremony in Kyoto Maikoya. During the 45-minute experience, you'll get to see how matcha tea is made, and then make your own. The ceremony costs 2,400 yen ($17.17), but you can also upgrade the experience by choosing from a selection of kimonos and having your hair and makeup done (about $37.18). It's a great photo opp and a delicious excuse to caffeinate mid-day.
Cost of attending traditional tea ceremony: $37.18
2 p.m.: Grab yakisoba noodles and okonomiyaki for lunch
After your tea ceremony, take a 20-minute walk back towards the Gion area to grab lunch at Gionnegiyakikana, a no-frills, wallet-friendly restaurant serving okonomiyaki (a savory Japanese pancake filled with your choice of protein and veggies) and yakisoba (stir-fried noodles in a sweet and sour sauce that come with hibachi-style veggies and protein) with only 12 countertop seats arranged around a sizzling grill. I had to wait about 20 minutes before getting seated at this hole-in-the-wall spot due to a small line outside the restaurant, but the piping hot okonomiyaki, Japanese omelets, and beef yakisoba were one of my favorite things I ate in Kyoto, especially paired with a pint of cold beer.
Cost of getting lunch: $25.43
3 p.m.: Shop at stores in the Gion area
After lunch, I stopped by the popular Daimaru Kyoto department store to browse for some souvenirs, and ended up getting a pair of wooden chopsticks and a handmade ceramic tea mug. My 10-minute route towards the Park Hyatt Kyoto also took me back through the shops I'd walked by earlier that morning, and I stopped by one to grab a bookmark made out of Japanese Washi paper and a journal from a paper store. The Studio Ghibli-themed store that I saw earlier had a good amount of merchandise, but the adorable Totoro Squishmallow and Spirited Away earrings inspired by the soot sprites in the movie were on the more expensive side.
Cost of buying a bookmark, ceramic tea mug, wooden chopsticks, and journal: $84
5 p.m.: Relax at the hotel and take a bath
The Japanese are big on taking baths, so I decided to lean into the tradition by filling up my bath with one of the skin-softening bath salts from the hotel and taking a long soak. It was nice getting to close my eyes for a minute and rest my legs after a long day of walking around. Afterward, I made myself a shot of espresso and got ready for dinner.
7 p.m.: Enjoy a chef's choice Omakase experience at Sushi Imai
Did you even visit Japan if you don't have sushi? IMO, doing an Omakase (chef's choice) experience at Sushi Imai is a delicious and authentic way to enjoy it. The $118 tasting experience is expensive, but it's a good deal for the freshness and quality of the fish, especially compared to similar sushi restaurants in the area. However, it's definitely not a fancy dining experience — with only nine seats, it's a pretty intimate, simple atmosphere. Just keep in mind that you'll be in and out in about an hour, and the chef doesn't speak much English. Though, if you want to see what kind of fish you're eating, there's a booklet with pictures.
Cost of sushi experience and drinks: $130
8:30 p.m.: Grab drinks at Bee's Knees
One of the most famous cocktail bars in Kyoto and in the world, Bee's Knees, near Pontocho, is well worth a visit. If you have time, I'd recommend walking there to see some of the more modern shopping and business areas of Kyoto as well as the cute shops and restaurants along the river. The Prohibition-style speakeasy, which welcomes you in with a sign for "The Book Store" on a bright yellow door, plays '90s hip-hop inside and serves up classic cocktails with clever twists and visual effects that'll make your camera want to drink first. For example, one of my friends ordered a riff on a margarita that had smoke pouring out of it. I enjoyed the Negroni, which came with a piece of dark chocolate, before walking back home to the hotel for an early night.
Cost of two cocktails: $32
Sunday
8 a.m.: Head to Kurama Hot Springs for an onsen experience
Kurama Hot Springs, the most famous onsen bath near Kyoto, is the perfect way to unwind during the weekend and also enjoy one of Japan's best wellness traditions in a completely different atmosphere. If you have time and want to spend it in nature, consider taking a hike in the area (300 yen) before enjoying the onsen, which costs 2,500 yen to access the indoor and outdoor baths. It's a bit of a hike to get to Kurama — it's a 30-minute approximately $3.36 train ride each way, and then you'll need to take the free shuttle from the station to get to the onsen — but it's well worth it to bathe in an outdoor onsen surrounded by lush forests and mountains.
Cost: $17.90 for the onsen, $6.72 for round-trip train tickets
2 p.m.: Swing by the Nishiki food market for lunch
The ryokan (restaurant) at Kurama Hot Springs is pretty expensive, so I'd recommend swinging by Kyoto's famous Nishiki food market, aka Kyoto's Kitchen, for lunch when you get back.
Nishiki food market is a long street filled with street vendors selling everything from seafood and meat skewers to sake tastings and spices. You can also get fresh sashimi and delicacies like sea urchin. One of my foodie highlights from visiting Kyoto was going through and trying a bunch of different things there. Just make sure you have some cash on hand, because most vendors don't take credit cards.
If you need a snack on the train back to tide you over, try some of the inexpensive fried chicken, tonkatsu sandwiches, or kewpie mayo egg salad sandwiches at the station — they're actually so delicious.
Cost: $30 for the meat and seafood skewers and hot chili oil to bring home, $5 for an egg salad sandwich on the train back
3 p.m.: Walk through Fushimi Inari-Taisha's red gates and find the hidden bamboo forest
Fushimi Inari Taisha — a Shinto shrine by Mt. Inari that's famous for its thousands of bright red Inari gates — is arguably one of the most iconic landmarks in Japan. Snapping a pic in front of the gates was at the top of my Japan bucket list, but getting the perfect shot was a little harder to maneuver than I'd expected due to the tourists. I'd recommend waiting until you've walked up the steps for a bit, as the crowds significantly start thinning out when the incline gets steeper.
You can walk the whole Fushimi Inari trail if you want to, but I personally found that the landscape and the gates got repetitive after a while. Instead, I'd recommend checking out one of Fushimi Inari's lesser-known secrets: a bamboo garden.
To get there, go back to the start of the gates, then walk outside of them to the right instead of going through them. Follow the path past a bathroom, and within 10 minutes, you'll be in a lush bamboo forest that many tourists don't know about. It might not be as big as Kyoto's famous Arashiyama Bamboo Grove, but I loved that it wasn't flooded with people and was so convenient to get to.
Like other shrines, admission is free. However, you'll pay about 150 yen each way if you take the train from Kyoto station (it's about a 10-minute ride, and you're dropped off right in front of the shrine).
Cost of round-trip train tickets: $2.14
5:30 p.m.: Relax at the hotel and get ready for the night
After a full day of walking and exploring, enjoy some downtime back at the hotel. I took a power nap then got ready for dinner and going out.
7:30 p.m.: Order ramen from a vending machine for dinner
I was planning on going out in the Gion District for drinks with a group, so we decided to try the nearby Musoshin Ramen for dinner. This unassuming spot with only a few countertop seats doesn't look like much from the outside, and I wasn't sure what to expect when we had to give our order to a vending machine instead of to an actual waiter (I quickly learned that this is actually pretty common in Japan, especially in train stations). However, the long line outside and the rave reviews online convinced us to give it a shot. The Musoshin with an egg was a delicious bowl of ramen, especially for only $6.80 — the meat wasn't too fatty, the broth was rich and creamy, and the noodles were the perfect texture. The fried chicken is also delicious if you want to order an appetizer.
Cost of the Musochin ramen with an egg, fried chicken, and beer: $15
8:30 p.m. - 10 p.m.: Get drinks and snacks in Pontocho
Gion, specifically the 500-meter historic Pontocho alleyway that's lined with red lanterns, is Kyoto's famous Geisha District. It was hard to figure out which bars and restaurants were closed from the outside as many of them have cloth coverings over the door and darkened windows. However, after a few failed attempts, we stumbled upon Gion Manzana on a side street. It looked like a place where mainly locals were dining, and we decided to order a few plates of sashimi, which were really fresh, as well as izakaya favorites like a beef bowl and hot mustard chicken, along with some sake and beer for the table. It wasn't as lively as we'd expected, so we called it after a few drinks and headed back to the hotel.
Cost of food and drink: $30.90