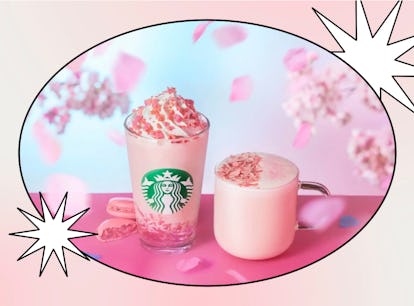 I Tried Starbucks' Sakura Frappuccino & Sakura Soy Latte In Japan
It's giving cherry blossom season.
Starbucks/Elite Daily
Japan's cherry blossom season is almost here, but 'Gram-worthy sips inspired by the signature pink sakura flower are already popping up at Starbucks locations around the country. This year's Starbucks sakura drinks, food, and merch are aesthetic AF, and I decided to review two of 2023's most picture-worthy drink creations during my recent trip to Japan. I visited Kyoto's most iconic Starbucks location to try Starbucks' Sakura Frappuccino and the Sakura Soy Latte to see what they taste like.
Every year, Starbucks Japan launches a limited-edition sakura-themed drop in mid-February. Sadly, American customers who've been hoping to taste the food and drinks have been out of luck so far (other than inspired Starbucks secret menu dupes), so I jumped at the chance to try some of the 2023 cherry blossom-inspired drinks — the Sakura Sakusaku Frappuccino blended beverage and the Sakura Soy Latte — both of which look almost too pretty to sip on. Judging from the ingredients, both of the drinks also look like they'd be difficult to replicate at a Starbucks in the U.S.
What's In Starbucks' Sakura Frappuccino & Sakura Soy Latte?
This year's Sakura Sakusaku Frappuccino blended beverage uses a blend of strawberries and cream to get a creamy consistency that is refreshing and tastes pretty similar to the Strawberry Crème Frappuccino. However, I was surprised by the pink sakura jelly base that's made with actual cherry blossom petals, which I thought were chunks of lychee when I first tasted them. Jelly-based desserts are pretty common in Japan, but the consistency of it initially threw me off. The topping — whipped cream and pieces of crispy strawberry macaron — was tasty and a fun texture combination, but considering the drink itself already had a pretty strong strawberries and cream flavor, it felt a little unnecessary to me. Unless you like your Starbucks drinks on the sweeter side, I'd probably go light on the whipped cream and macaron topping.
While the Frappuccino was a little bit sweet for me, Starbucks Japan's Sakura Soy Latte really exceeded my expectations. The steamed milk paired with the sakura strawberry sauce was comforting, especially during a rainy spring day, and I think the shaved white chocolate petals and pink silver sugar added the perfect amount of sweetness. The latte was creamy without tasting cloying, and I feel like I was able to drink a good amount of it compared to some of Starbucks' other sweet drinks. Plus, it was super cute with the shaved chocolate design on the top and the dreamy pastel pink hue.
Overall, I thought Starbucks Japan's sakura drinks were delicious and had a unique combinator of flavors compared to drinks I've had in Starbucks locations in the U.S. Hopefully domestic Starbucks locations will jump on the sakura wagon soon, but in the meantime, I'll be keeping an eye out for any Starbucks secret menu iterations of this year's drinks to try.