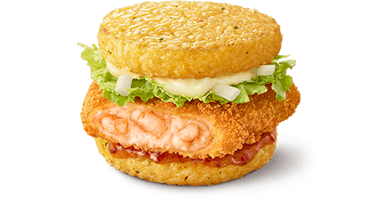 An Honest Review Of McDonald's Shrimp Burgers In Japan
Say less about the spicy shrimp burger with fried rice buns.
McDonald's Japan
The Golden Arches are a mainstay around the world, but McDonald's international menus feature different specialties you can't get in the U.S., like McDonald's Australian Cheesy Bacon Fries and China's Kung Pao Chicken Sandwich. So, during my recent trip to Japan, I scheduled in some time to try some of McDonald's Japan's shrimp burgers. In addition to a Filet-O-Fish-inspired Ebi Burger, I tasted McDonald Japan's new Asian Gohan Sweet Chili Shrimp, which comes sandwiched between two crispy rice buns.
I'd normally avoid ordering shrimp patties from a fast food chain, but McDonald Japan's shrimp patties are coated in a crispy tempura-like breading — a staple of Japanese cuisine. Plus, Japanese people are so hype about the shrimp patties that the menu item reportedly bumped McDonald Japan's popularity. The Gohan rice buns, which are brushed with a savory soy-based sauce, have also reached viral status since being introduced in 2020.
Ahead of my visit, I looked into McDonald Japan's shrimp burger offerings, and landed on the company's basic shrimp burger as well as a limited-edition late-night shrimp burger that's served on rice buns. While McDonald's Ebi Filet-O-Shrimp burger keeps it pretty simple by pairing the panko-encrusted shrimp patty with lettuce and a tangy Thousand Island sauce, I was most intrigued by the limited-edition Asian Gohan Sweet Chili Shrimp burger, whichMcDonald's Japan locations launched on Feb. 8, 2023. While in Kyoto, I stopped into a Mickey D's to taste the two shrimp burgers.
McDonald's Japan Shrimp Burgers Review
McDonald's Ebi Filet-O-Shrimp burger looked just like a Filet-O-Fish sandwiched between two regular hamburger buns at first glance, but it was pretty tasty when I took a bite. The shrimp patty was non-greasy, had the perfect amount of crispiness, and the shrimp filling had a satisfying texture and flavor. It seemed like there were big chunks of shrimp inside (not minced shrimp like I'd envisioned) and the non-fishy taste complemented the tangy creaminess of the Thousand Island dressing.
Meanwhile, I was excited to bite into the Asian Gohan Sweet Chili Shrimp as soon as it came out of the fryer. It was sizzling hot and so crispy, and I could see how crunchy the rice buns would taste just by looking at it. Taking a bite without deconstructing the burger was a little more challenging than I'd anticipated, but the combo of flavors made this burger one of the best things I've had at a McDonald's. The lettuce and onions added some freshness and crunchy texture to the crispy fried shrimp patty and rice bun combo, and I was a huge fan of the sweet chili sauce that brought a hint of spiciness into each bite without being too overwhelming. I'm not sure if the sweet chili sauce is the same one in BTS' McDonald's collab from 2021 (which happens to be my fave McDonald's sauce to date), but it tasted pretty similar to me.
Overall, McDonald Japan's shrimp offerings exceeded my already high expectations, and I'll be signing any and all petitions to bring them to the U.S.