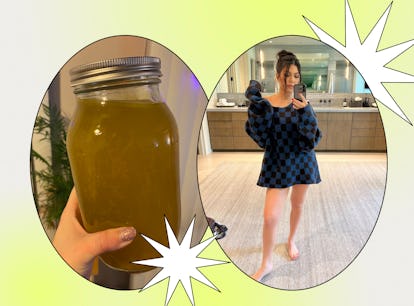 I Tried Kourtney K's Bone Broth Recipe For My Gut Issues
However, it had a surprising after-effect.
Rachel Chapman/Kourtney Kardashian/Instagram/Elite Daily
TikTok is making bone broth trendy again, but adding it into your daily routine is nothing new with celebs. Kylie Jenner drinks bone broth every morning with lavender and lemon, while her sis, Kourtney Kardashian, has shared her go-to bone broth recipe that's full of ingredients like carrots, onions, and ginger. Since bone broth is great for your gut health and I suffer from acid reflux and indigestion, I had to see what all the fuss was about for myself. Not only did I try making Kourtney's bone broth recipe at home and drinking it at home for a week, but I also reached out to bone broth expert and board-certified naturopathic physician Dr. Kellyann Petrucci to understand its benefits even more.
Dr. Kellyann tells Elite Daily that bone broth is the "best whole food source of collagen, meaning it can help you "see an increase in skin elasticity and hydration, and a reduction in wrinkles." While powdered collagen products are popular and trendy, Dr. Kellyann suggests consuming bone broth as a whole food source of collagen versus supplements that can contain fillers or additives.
If you're wondering what the different between chicken broth and bone broth is, a big one is its consistency. Since the bone broth I made at home was fresh, it turned into a gel form after I placed it in my fridge overnight. Dr. Kellyann shared its thickness is due to "the viral nutrients that are extracted from the bones." In addition, regular broth and chicken stock have their own health benefits, but they don't "hold a candle to bone broth's nutritional density." The gelatin-like consistency and the glutamine is also great for your digestion and helps "repair the gut lining."
While Kylie prefers to enjoy her bone broth beverage first thing in the morning, Dr. Kellyann says that it can be enjoyed at any time. She actually recommends that "everyone drinks two cups of bone broth a day." To live like a KarJenner, I prepped myself some of Kourtney's bone broth to see if I noticed any changes over the course of a week and if it's worth adding to your daily routine.
How To Make Kourtney Kardashian's Bone Broth Recipe
The bone broth recipe that Kourtney prefers is not a secret Kardashian family recipe, but rather one that she actually got from her friend Jennifer Galvan's mom. You will need about a day to make it, but you can prep a bunch of bone broth to enjoy all week long. To begin, you'll need to gather the following ingredients:
Six pounds of chicken back, neck, and feet (two pounds each)
Two onions
Four celery sticks
Two carrots
A bunch of parsley
A whole garlic
1/4 cup chopped ginger
One tablespoon kosher salt
1/2 tablespoon pepper
1/2 tablespoon turmeric
3 tablespoons apple cider vinegar
The night before you plan to make your bone broth, you'll need to wash and clean the chicken before putting it into a pot with super cold water and 1/2 cup of salt. It can be sea salt or kosher salt. Once that's done, cover and stick in your fridge overnight.
When you wake up the next day, empty out the water from your pot and rinse your chicken. After that, place the chicken back into a big pot with your chopped up veggies and some water. Get your water to a boil, and then set it on low heat to cook for about six to eight hours. It truly is an all day thing.
When it's ready, use a colander to pour your bone broth into another bowl, making sure to sift out everything but the broth. Whatever you're left with can be placed in mason jars and stored in your fridge. If you're not sure how quickly you can drink all your bone broth, you can leave this recipe in your freezer for up to three months.
Dr. Kellyann says that Kourtney's favorite bone broth recipe is great because it's "full of ingredients that support gut and digestive health, such as ginger, garlic, and apple cider vinegar." Plus, the turmeric is an anti-inflammatory spice. Her only suggestion is to add a source of vitamin C like tomatoes, broccoli, or Brussels sprouts because they make the collagen in your bone broth more effective. However, she warns against cooking any vegetables into the soup, because they can lose a lot of vitamin C when heated. For flavor, she also suggests adding in some cayenne pepper, because it'll not only give your broth a little kick but it can also "speed up your metabolism."
Kourtney Kardashian's Bone Broth Recipe Review
After spending most of my weekend making homemade bone broth, I highly doubt Kourtney Kardashian is making this recipe at home often. Just chopping veggies alone took forever. It was so time-consuming and exhausting that I don't think I would ever do it again.
While I am a little impatient in the kitchen, I also have to admit that Kourtney's bone broth recipe was delicious. It was so flavorful with the ginger and onions. Since I placed my bone broth in mason jars, all I had to do was heat it up in the morning to get it back to a liquid from a gel and enjoy. It was like drinking soup for breakfast, which is less weird than you might think. Following Dr. Kellyann's recommendation, I enjoyed some mandarin oranges after my bone broth to get in that vitamin C as well. Overall, if you've got the time for making a delicious bone broth recipe, this is a solid one to add to your arsenal. A little spice would have been a nice touch, and I think the cayenne pepper Dr. Kellyann mentioned would make this even better.
After drinking bone broth every day for about a week, I noticed I had more energy than before. Most days after work, all I want to do is take a nap or watch Netflix. However, the week I drank bone broth, I actually did some chores around my apartment instead. The biggest surprise is I haven't noticed too much of a difference as far as my gut goes after having bone broth for a week, but I'd be open to continuing to drink it for longer and seeing if that changes.
The only thing is I will definitely be getting something ready-made instead of making my own bone broth from now on. I have a kitchen, but it's not where I'm meant to be all day on a Saturday.
Expert Source Cited:
Dr. Kellyann Petrucci, M.S., N.D., New York Times best-selling author and naturopathic physician