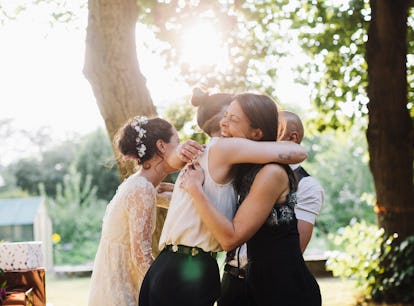 25 Instagram Captions For Attending Your Work Bestie's Wedding
If I could give away my PTO as a wedding gift, I so would.
Hinterhaus Productions/DigitalVision/Getty Images
Your work bestie is going from the office to the altar, and you get to see it all go down. Whether you're a guest or a part of the wedding crew, you'll definitely need some wedding Instagram captions for attending your coworker's big day. After all, this is the day you've both been talking about nonstop on Slack or on your coffee runs. So, when you finally get to see everything come together, you'll need the right Instagram captions for your coworker's wedding.
During the ceremony, make sure to snap a few precious moments of the happy couple standing at the altar, when they make their vows to each other, and of course, the big kiss at the end. You'll also want to make sure you get a selfie or two with the happy couple at the reception. You know they'll be busy partying it up and making time for each one of their guests, but grab them for the photo booth or snap a candid on the dance floor.
Since not everyone in the office may be invited, you're also the person who gets to document the big day for everyone else at work. When they're scrolling through their feed later, they'll love seeing the pics you've taken with any of these 25 wedding quotes and coworker wedding wishes. Just make sure you're prepared to post your wedding day photo-dump with some wedding captions that perfectly match all the fairy-tale vibes.
"This wedding was more beautiful than what you described on Slack."
"May you two have a latte love."
"What will I do without you in the office while you're on your honeymoon?"
"Are you going to change your work email now?"
"You're not just a coworker, but my friend. I'm so happy to celebrate your day."
"I still remember when you told the office you got engaged."
"My work wife is an actual wife now!"
"Let's see how many people from the office partied so hard they have to call in on Monday."
"I got to see my favorite person get married to their favorite person."
"I know you'll be a great spouse because you're the only person I like working with."
"Can we have an open bar at work, too?"
"What happens on the dance floor, stays on the dance floor."
"Congrats on your new job title: Wife/Husband/Spouse"
"What a wonderful day to celebrate my favorite coworker."
"If I could give you tons of PTO as my wedding gift to you, I would."
"I can't wait to talk about how amazing this wedding was on our coffee runs."
"Of all the things we've celebrated over the years, today tops the list. Congrats!"
"Chance made us colleagues. Our chats on Slack made us friends."
"I'm going to miss hearing you talk about your wedding planning during lunch."
"From happy hours to your happily ever after!"
"You're my person." — Grey's Anatomy
"If anyone in the office asks, no, I did not cry like a baby during the ceremony, OK?"
"Happiness is when your coworker becomes your friend, and you get to see that friend get married."
"This day will definitely be the talk of the water cooler for months."
"I'm not crying. You're crying."