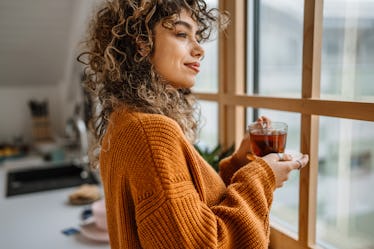 These 7 Expert Tips Might Actually Make You Become A Morning Person In The Winter
Whatever you do, don't press snooze.
J_art/Moment/Getty Images
Is it even possible to rise and shine in the early hours of a frigid winter morning? If you're not a morning person by nature, it's consistently frustrating to open your eyes, only to find that your room is just as dark as it was when you fell asleep the night before. Even if you are a morning person, when it's cold and dark outside, it's just such a struggle to get out of bed. Still, it's not impossible to learn how to be a morning person in the winter; it just takes a little grunt work, and a lot of patience. Also, coffee. You're definitely going to want coffee.
Whether you've always been one of those early to bed, early to rise type of people or not, once Daylight Saving Time starts creeping up, forget it. While you're up and at 'em, getting dressed, brushing your teeth, and preparing for another day, the sun's golden rays are still sound asleep somewhere in the atmosphere. Rude.
And mind you, it's not just night owls who are hitching a ride on the struggle bus from November through March. Early birds feel it, too, and according to mental health counselor Danielle Forshee, LLC, the obvious lack of sunlight is what's making you want to press "snooze."
"Naturally, our brains associate darkness with nighttime and sleeping, while our brains associate light with rising and being productive," she tells Elite Daily in an email. So, when you're used to rising with the sun, it's that much harder to wake up without those rays of sunshine peeking through your curtains.
So, how can you possibly condition yourself to be a morning person in the wintertime, when all you see when you open your eyes is pitch black darkness? Here are a few expert tips to get you through the next couple of months.
Experts Cited:
Mental health counselor Danielle Forshee, LLC
Life coach Katie Sandler
This article was originally published on