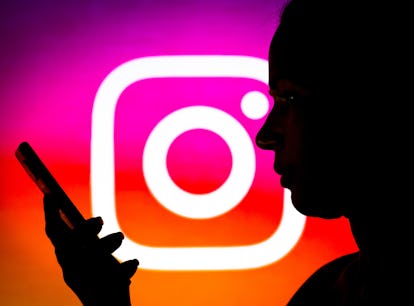 How To Turn Off Quiet Mode On Instagram To See Your DMs
Gimme those notifications.
SOPA Images/LightRocket/Getty Images
Let's face it: everyone can benefit from putting down their phone and shutting out the world every once in a while. Instagram's new Quiet Mode feature eliminates distractions by hiding all notifications for as long as you want, which is great for completing that task you've been putting off for weeks. But if you finish your work early and want to reward yourself with some much-deserved scrolling, figuring out how to turn off the function can be tricky. If you're ready to take a trip down your timeline again, or you want to catch up on your DMs, here's the rundown on how to turn off Quiet Mode on Instagram.
Between (finally) swapping the Shop tab for the Create button and the rollout of the new Quiet Mode feature, it's fair to say Instagram did not come to play in 2023. The latter feature, which was announced on Jan. 19, takes paused notifications and screen-time limits to a whole new level. By turning it on, your profile will be set to "quiet mode" (though you'll be the only one who can see it), and will notify users who try to DM you that you're in Quiet Mode with an auto-reply message. You also won't receive any notifications about likes or comments, making it a great tool for focusing on the task at hand or setting boundaries with your besties late at night. FYI, you'll still see the red notification bubbles outside the app, though.
Don't let your FOMOON (Fear Of Missing Out On Notifications) stop you from using the helpful tool, because once you're out of Quiet Mode, the app will let you see all the alerts you missed.
What separates Quiet Mode from pausing push notifications are the time restrictions you're required to set. You can put your account in Quiet Mode for up to 12 hours, and can pick when you want it to turn off down to the minute. If your study sesh wraps up early, though, you might want to hop on the app sooner than you thought. Thankfully, turning off Quiet Mode is so simple, you just need to know where to look. Turning off other aspects of the feature, like the auto-reply DM, might not be as easy, though. Here's what you need to know.
How To Turn Off Quiet Mode on Instagram
Even if you have another two hours left on your Quiet Mode, don't worry, because turning it off is just as easy as turning it on. No, really — it's the same exact process. When you're ready to see what you missed, here's what you need to do:
Open the Instagram app, and navigate to your profile.
Tap the triple line icon in the top right corner.
Open Settings.
Open Notifications.
Tap the Quiet Mode option, then toggle off Quiet Mode.
How To Schedule An End Time To Quiet Mode on Instagram
The easiest way to turn off Quiet Mode is to let it turn off itself. It'll do so automatically at the time you set it to turn off, and you can pick your time by:
Navigate to your profile.
Tap the triple line icon in the top right corner.
Open Settings.
Open Notifications.
Tap the Quiet Mode option.
Toggle on Quiet Mode, then scroll up and down through the time options to pick your start and stop times.
How To Turn Off Quiet Mode Auto-Reply Message
If your bestie likes to turn on Quiet Mode before bed every night, you might be forced to deal with a lot of auto-reply messages. It could get annoying after a while, so it's understandable if you want to stop the alert altogether. Unfortunately, it doesn't appear as though there's a way to hide the message. It is one of the main selling points of Quiet Mode, after all. On the bright side, you won't get the auto-reply after every single message you send, and it's also pretty tiny and easy to ignore, too.
Just because you finish your errands, assignments, work, or studying early doesn't mean you have to turn Quiet Mode off, though. As of Jan. 20, you can still like, comment, watch Stories and Reels, and send DMs while you're in Quiet Mode without being bothered by any pesky notifications.
According to a Meta spokesperson, future iterations of the feature may include getting rid of all red notification bubbles and making the Quiet Mode profile indicator visible to other users as well. So who knows — using Quiet Mode could look a lot different down the line.