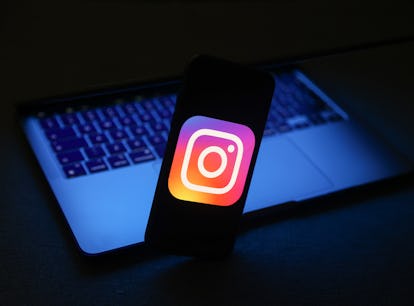 How To Turn On Instagram Quiet Mode For A Major Notification Break
Less screen-time, more me-time.
NurPhoto/NurPhoto/Getty Images
If you feel like you're always on your phone and constantly in communication with people, it's probably because you're on it more than you'd like to be. After all, it's not hard for a quick Instagram scroll sesh to turn into an hours-long convo if someone pops into your DMs. And it's easier said than done to totally put your phone out of sight, but a new Quiet Mode feature from Instagram is meant to help make your scrolling experiences a little more intentional, so you won't have to quit social media altogether. Here's the rundown of how to turn on Quiet Mode on Instagram for a notification break, and what you can expect when you use it.
You likely don't need a screen time report to know you spend a little too much time on your phone. With so many apps, social media sites, and messages demanding your attention every day, it can be hard to put your phone down. To give you a little push in the right direction, Instagram launched a new Quiet Mode feature on Jan. 19 that'll shut down your DMs for as long as you want. You also won't get notifications about likes or anything else going on in the app. You can use it to keep your phone "quiet" when you're not in the mood to see every little thing happening on Instagram.
In a Reel announcing the launch of Quiet Mode on Jan. 19, Instagram head Adam Mosseri described the new feature as one of the "powerful" ways to "shape Instagram into the experience that you find meaningful." Once you see what it's all about, you'll be on board.
What Is Quiet Mode?
Quiet Mode lets you silence your IG push notifications and also alerts others that you're not being notified. You'll see red indicators that you have DMs or likes, but you won't get the push notification in-app or on your phone. Users already had the option to stop push notifications manually in the app's settings, but Quiet Mode takes it a step further by letting you set an automatic time each day that Quiet Mode will be enabled on your app.
In future iterations of the feature, Instagram is exploring getting rid of all red notification bubbles, like the ones you see on your app icon or in the app by your DMs, according to a Meta Spokesperson. (Fingers crossed for that game-changer.)
The new option is great for setting boundaries on your IG so you can focus on what you need to. Users who try to DM you while you're in Quiet Mode will receive an automatic message that reads: "[Instagram User] wasn't notified about this message because they're in quiet mode." When you finally turn off Quiet Mode, you'll receive a summary of notifications, so you can catch up on what you missed, which you also don't get by simply pausing push notifications.
Once you turn on the feature, your profile will indicate you're in Quiet Mode with a grayed-out message that reads "in quiet mode." But only you will be able to see that — anyone visiting your IG profile will see it as they normally would. The only indication they'll get that you're in Quiet mode is the auto reply in your DMs. Per a Meta spokesperson, IG is also looking into making the profile Quiet Mode indicator visible to anyone who sees your profile.
How To Turn On Quiet Mode
When you're ready to scroll without interruption, it's time to turn on Quiet Mode. Here's what you'll need to do:
Open the Instagram app, then navigate to your profile.
Tap the triple line icon in the top right corner.
Tap "Settings."
Open "Notifications."
Select the Quiet Mode option, then toggle it on and set your hours by scrolling up or down.
Teenagers on the app will be asked if they want to turn on Quiet Mode while using the app late at night — a little something to make sure you don't wind up in a 3-hour DM fest at 1 a.m. Additionally, if you message a profile in Quiet Mode, you'll also get a prompt asking if you'd like to use the feature, too.
The new Quiet Mode is great when you want to shut it all down, but if you're only trying to silence specific areas of the app, you can customize which alerts you don't want, like notifications about Posts, Stories, and Comments, Lives, and Reels.
Editor's Note: This post was updated on Jan. 20 with new information from Meta to clarify some features are not yet available in Quiet Mode, but they may be released in future iterations.
This article was originally published on