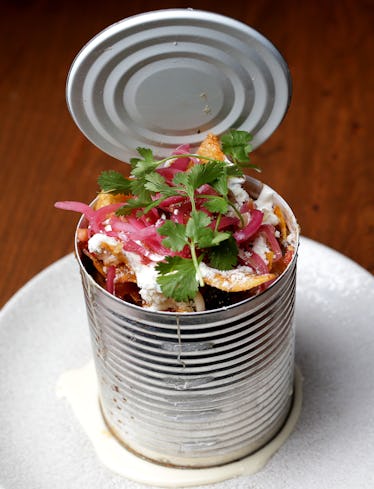 How To Make Trash Can Nachos From TikTok For Game Day Feasts
Boston Globe/Boston Globe/Getty Images
Game days are the perfect excuse to round up all your favorite crunchy, cheesy snacks to enjoy in front of the TV. Whether your go-tos are charcuterie boards, spicy wings, or crispy fries, a salty bite always hits the spot paired with a cold sip of beer. Nachos are a classic game day dish that the whole crew will love, especially when they're layered with tons of flavor and textures. If you're looking to up your nacho game this football season, check out this recipe for viral Trash Can Nachos from TikTok that'll take your game day party spread to the end zone.
It's no wonder Trash Can Nachos are so popular on TikTok — besides enjoying a plate of layers of tortilla chips and yummy toppings, there's also an exciting reveal when it slides out of the can before serving. The trend is inspired by TikTok users filming the OG dish and its satisfying serve at Guy Fieri's Kitchen and Bar, where the chef even made a special appearance at @caesarsrewards's table to perform the ceremonial lift of the nacho can. Home chefs replicated his now signature "flavor town" bite at home, like in this recipe by @thecuriouscreature. Trash Can Nachos aren't too different than the traditional snack, except that the dish is prepared by layering the ingredients in an ordinary tin can, popping it in the oven to get gooey and warm, and then flipping the can over onto a plate to release a mountain of chips and cheese.
The best part about this recipe is that you can customize it with your favorite nacho toppings. You can prepare the taco meat, guacamole, cheese sauce, and pico de gallo ahead of time, or you can purchase them pre-made from the grocery store or at a local Mexican restaurant to save on time. Once you have your ingredients prepped, grab a large can you'd otherwise recycle, and put it to culinary use for your next game day party. Keep reading for the full recipe for TikTok's Trash Can Nachos below.
How To Make Viral Trash Can Nachos
Here's what you'll need:
A tin can, size depending on desired servings
Queso dip or homemade cheese sauce
Shredded cheddar cheese
Tortilla chips
Black beans
Pico de gallo
Sliced red onion
Sliced jalapeno peppers
Taco meat of choice
Chopped cilantro
Sour Cream
Guacamole or avocado
Preheat your oven to 350 degrees Fahrenheit
Start by coating the bottom of the can with a layer of cheese sauce. Next, add a handful of tortilla chips and top with more queso. On top, add layers of beans, pico de gallo, jalapeno, cheddar, and taco meat. Spoon on more cheese sauce, chips, and repeat the layers until the can is filled to the top.
Grab a baking sheet and set it upside down on top of the opening of the can. While holding the can firmly to the sheet, invert the two so the baking sheet is flat and the can is bottom-side up.
Bake the can on the baking sheet in the oven for about 10 minutes.
Remove from the oven and let cool for a few minutes. Then, on a serving plate, flip the can upside down and see the gooey nachos fall out. Top with sour cream, guacamole, lime juice, and enjoy.