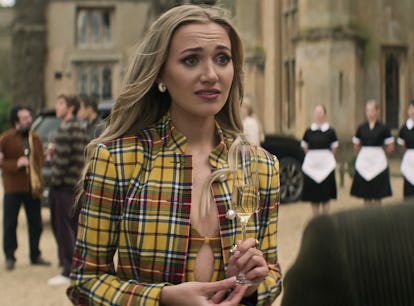 Is Hampsie From You Real? You Can Visit Lady Phoebe's Castle IRL
The Tudor mansion opens back up to the public in March.
Netflix
When it was announced that You Season 4 would be set in London, fans were surprised. After all, the last time they saw Joe Goldberg, he was in Paris and chasing after Marienne. However, the UK has proven itself to be the perfect backdrop for this season's murder mystery. Part 1 of Season 4 culminates at Lady Phoebe's countryside castle, and fans are dying to know if Hampsie from You is real? While the Hampsbridge House was created just for the show, the actual filming location is a place you can visit IRL.
Spoiler alert: This post contains spoilers from Part 1 of You Season 4. When Joe — aka Jonathan Moore — is invited to Phoebe's Hampsie home for a weekend getaway, it's anything but relaxing. As he's working hard to unmask the Eat The Rich Killer, Joe is also having to deal with Phoebe's other invited guests. You may not want to vacation with the same group of privileged socialites, but a visit to the real-life Hampsie with your crew deserves a spot on your travel bucket list. Netflix chose Knebworth House to sub in for Hampsie, and this Tudor mansion is open to the public for tours throughout the year. While it's temporarily closed right now, this just gives you plenty of time to plan a perfect You-inspired trip overseas.
Where Is Hampsie From You In The UK?
Over an hour outside of London, you'll find Knebworth House in Hertfordshire, England. Aside from You, the mansion has been used for quite a few productions, including movies like Paddington 2 and Nanny McPhee. You showrunner Sera Gamble told Tudum, "Knebworth, where we went, is very filming-friendly." Gamble also revealed that when they were writing Season 4, they envisioned Hampsie being just a "country house." However, when Knebworth came into the picture, there was no denying this was it. "It had everything we needed — we were so lucky," she shared, adding, "I imagined something that was obviously owned by someone of means, but I didn't expect it to look like a f*cking castle, necessarily!"
Knebworth really is a sight to see, which is why you should factor in a day trip to visit it while you're in the UK — especially if you're a You fan. Both Knebworth House and its park and gardens will officially open back up in March. First, the garden will be available for Mother's Day on March 19 with the rest of the estate opening the weekend of March 25. When planning your vacay, be sure to check the Knebworth calendar for open days as well as times. Typically, the park and gardens are open from 10:30 a.m. to 5 p.m. daily, while the house is open from 11:30 a.m to 5 p.m. However, on certain days, the house will open later at noon.
Since you'll want to explore the inside of the house just as much as the gardens where Joe goes running from Roald, checking the time is important. You can also save money on tickets by booking ahead online. For the house, park, and gardens, admission is £19 ($23) online and £20 ($24) at the gate. If you're going with a group of four, you can also save some money with "family" tickets. The group cost is £68 ($83) online and £72 ($88), which saves you about $2 each. That may seem like pennies to someone like Phoebe and Adam, but it's $2 you can use to buy yourself a tea from the tea room at Knebworth.
As you're exploring the inside of the Hampsie estate, you may recognize certain rooms. While Phoebe's boudoir was built for production, "the windows behind it are truly of this old estate house," according to Gamble. At the end of Part 1, the Eat The Rich Killer — aka Rhys — sets fire to the Hampsie castle, so it probably won't make another appearance in Part 2. However, there are plenty of other You filming locations around London that you can visit after your stop at Knebworth.